Scotland is home to over 130 distilleries split into 5 whisky producing regions: Campbeltown, Highlands, Islay, Lowlands and Speyside. Although they all follow the same process of fermentation, distillation and maturation, each one has its own style. From oily and spicy to delicate and floral, the varied landscape in Scotland offers an array of different flavours.
Speyside
All the Chivas Brothers' distilleries except for one are in Speyside, a remote corner of whisky paradise. The whiskies here are typically characterized as rich, fruity and floral. The concentration of distilleries is due to the significant availability of natural ingredients, in particular the water, and the climate. Speyside is an important resource for signature blends such as Ballantine's and Chivas Regal. Meanwhile, The Glenlivet and Aberlour are the definitive single malts in the region.
The Glenlivet
The story of The Glenlivet starts in the distant 1822 where around 200 illicit distillers were working away hidden from the authorities among the hills and the springs. Our founder, George Smith, made history when he became the first to obtain a license to distill whisky legally. His son gained the right to call it The Glenlivet, to stop other distillers from using the name on their bottles. Even today we continue George Smith's vision of breaking traditions and setting new standards.
Neat? A classic. On the rocks? Great choice. Cocktail? Amazing! The Glenlivet offers the finest barrels, finishes and exceptionally unique liquids and fantastic cocktails to open up the world of single malts to everyone.
Aberlour
Aberlour was founded after in 1879 by James Fleming whose vision was to open his own distillery. Like many Victorian distilleries, it burnt down and in 1898 it was rebuilt. The village of Aberlour is found in the heart of Speyside where the natural resources and the founder's passion come together to produce an exquisite whisky. Aberlour's focus is on the whisky itself, the art, the passion and the knowledge are the things that count. It's typically drunk with close family and friends to share a moment of conviviality.
Every year millions of people go to the distilleries in Scotland to discover the treasures of Scottish whisky, especially in the Speyside region where authenticity goes hand in hand with innovation. Thanks to that, this region manages to offer products to satisfy every palate and every situation.
The Glenlivet
A first-class single malt. Aged for 12 years in traditional oak and american oak. Soft and delicate but at the same time complex. This whisky is for every occasion. You can drink it neat, on theh rocks, or in a cocktail. Our hero drink is The Glenlivet Royale: single malt meets champagne in an original version of the French 75 recipe.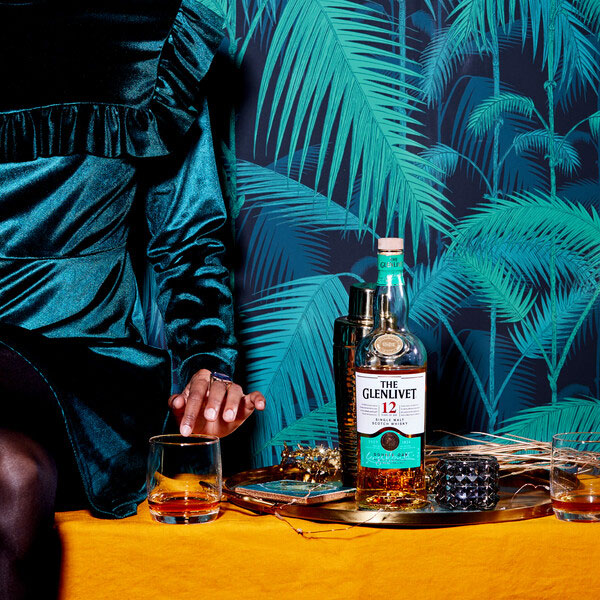 Tasting notes
Colour: bright, vibrant gold
Nose: fruity and summery
Palate: well-balanced and fruity, with strong pineapple notes
Aged with NAS in traditional american and european oak barrels, finished in french ex-cognac barrels that give it a combination of raisin and citrus notes and creamy softness. This unique expression offers a lot of freedom to experiment with the flavour beyond the whisky. Excellent to combine with duck. The rich fatty content of the duck goes perfectly with the light finish and it is well known for being paired with cognac.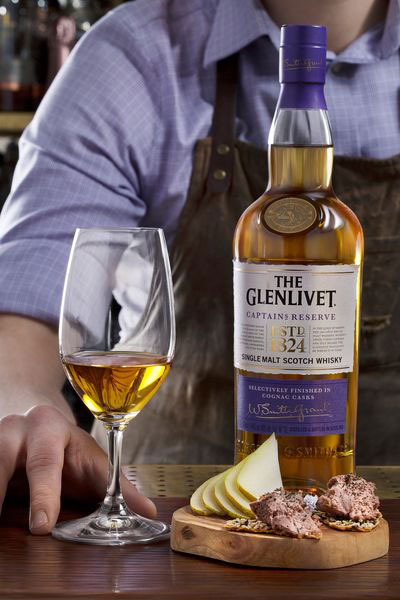 Tasting notes
Colour: rich gold
Nose: sweet and fruity aromas of honey and apricot jam, with notes of sweet cinnamon bread and subtle sensation of spicy liquorice
Palate: succulent flavours of mandarins in syrup, ripe poached pears and chocolate-dipped raisins
The 15yo is a whisky with a rich and exotic character. It's finished in traditional french oak barrels that are usually used for the finest wine and cognac. The result is an extraordinary spicy note. Enjoy it with full-flavoured venison dishes.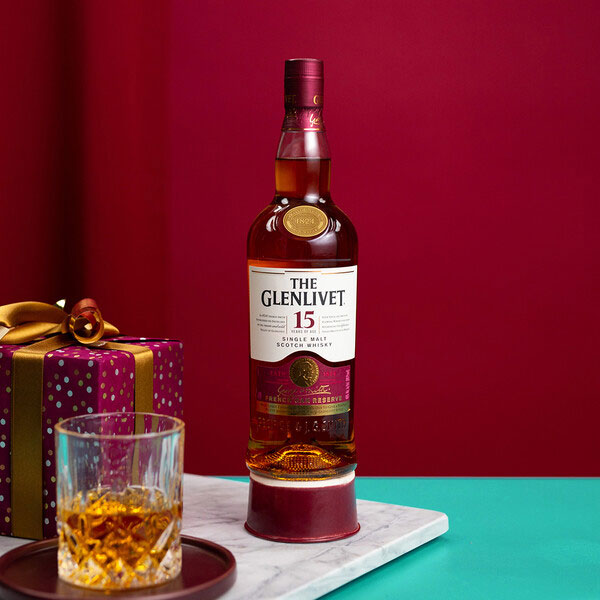 Tasting Notes
Colour: deep, intense gold
Nose: creamy, rich, buttery
Palate: fruit and nut
Nàdurra First Fill Selection
Nàdurra means "natural" in gaelic. It's a cask strength whisky and non chill filtered that reflects the methods used by illegal distillers in the 1800s. It's an expression that pleases the dauntless whisky lover. It's aged in american white oak that gives vanilla notes.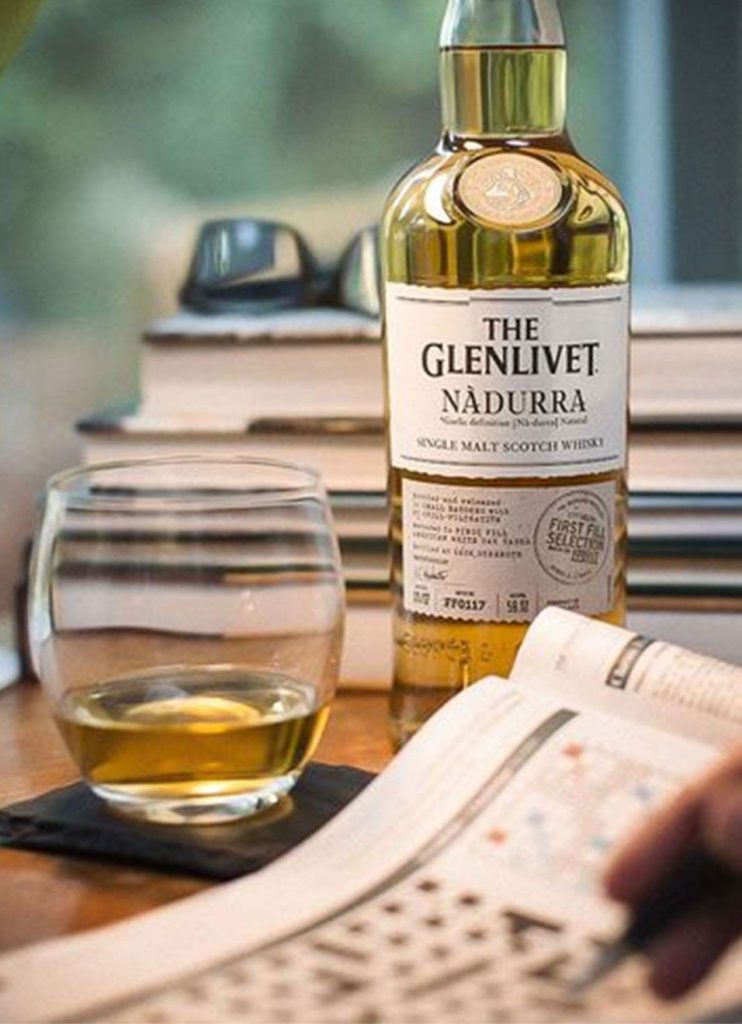 Tasting notes
Colour: light gold
Nose: sweet pears, vanilla fudge
Palate: Juicy pineapple, ripe banana, citrus zest
Nàdurra Peated
A whisky that introduces a new dimension to the classic The Glenlivet style. Unlike the Nàdurra First Fill Selection, it's finished in barrels that previously contained peated whisky giving it a delicately smoky flavour.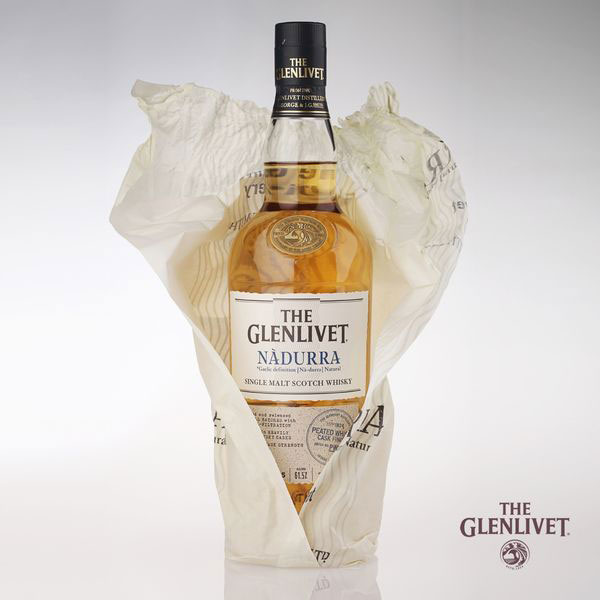 Tasting notes
Colour: amber gold
Nose: Red apples, citrus zest, aromatic smoke
Palate: tangy marmalade, creamy vanilla toffee, toasted smokiness
18yo
The most awarded whisky in all of the range! It uses two types of barrels: first and second fill american oak (for tropical notes) and ex-sherry oak (for spicy complexity). This is a whisky for special occasions.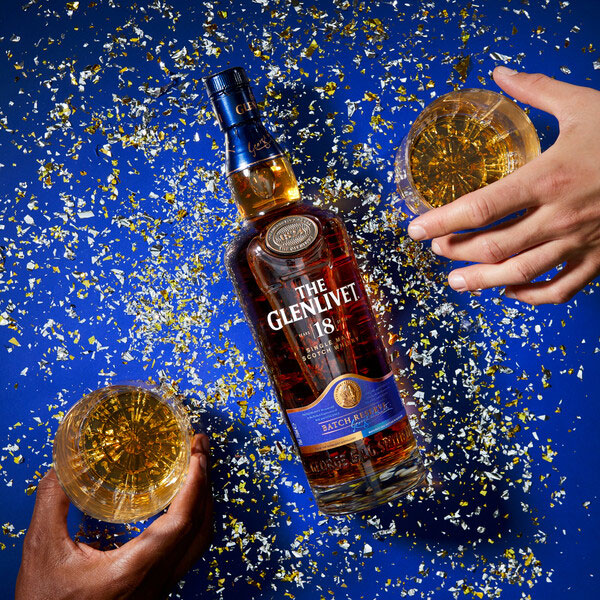 Tasting notes
Colour: old gold, apricot
Nose: rich fruit, toffee
Palate: Balanced, bursts of sweet orange
This bottle with a great Sherry influence is not only rare but also unique. It's produced in a series of batches. All of the barrels are hand picked by Alan Winchester, the master distiller of The Glenlivet. The result of every batch has its own nuances in flavours. It's perfect with rich chocolate desserts and fruit.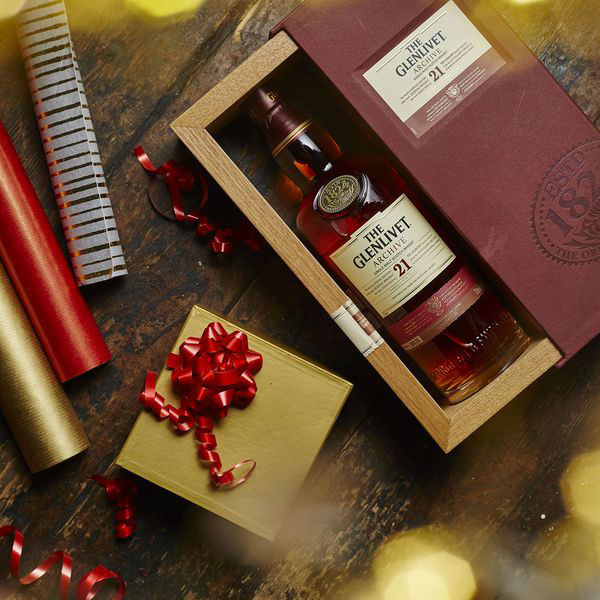 Tasting notes
Colour: amber, copper shades
Nose: dried fruit, sherry
Palate: notes of cinnamon, cloves, brown sugar, barley malt and fruit cake.
25yo
Aged in the finest barrels for at least 25 years, this whisky is the oldest expression of the core range of The Glenlivet. The oak soaked in Oloroso adds some subtle sherry tones and creates a sweet, rich and intense whiskey. Enjoy with creamy camembert and fine artisan cheese!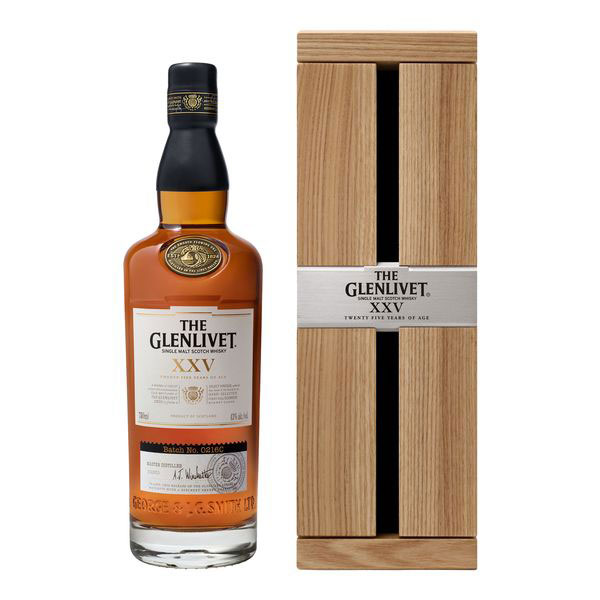 Tasting notes
Colour: rich amber, golden shades
Nose: dark chocolate, sultanas
Palate: dark chocolate, spiced fruit, toasted nuts
Single Cask
A single cask Glenlivet whisky with an aging of 17 years. The name 'Meiklour' comes from a small rural village in the county of Perth and Kinross. It is part of a limited edition of only 102 bottles.
Tasting notes
Colour: sparkling amber
Nose: intense, deep and creamy, with fruit and spice aromas.
Palate: silky and perfectly balanced. A complex blend of dark chocolate and orange peel. Persistent finish with notes of sultanas.
ABERLOUR
Soft, elegant and one of the best single malts on Speyside. The classic 12 is aged in a mix of American oak and ex-sherry barrels. Recommended pairings are trifle, chocolate, apple pie…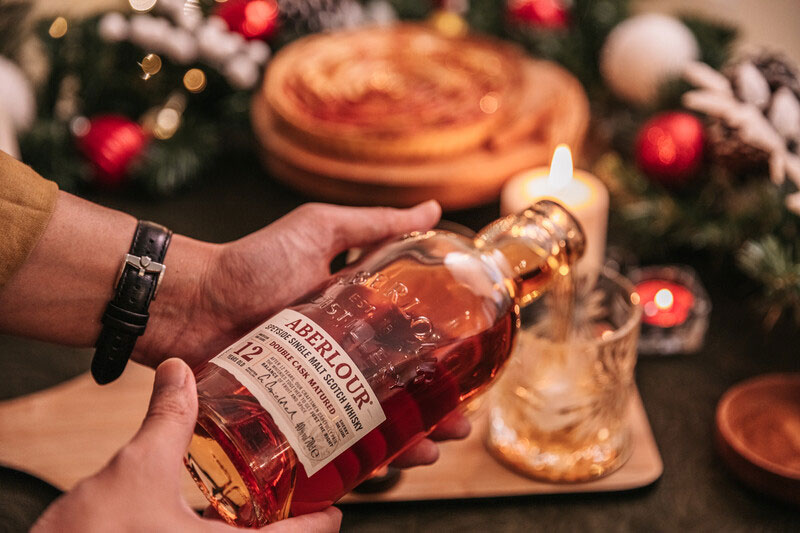 Tasting Notes
Colour: Amber.
Nose: buttery notes, cinnamon and toast, hints of raisins and wood.
Taste: Sweet and buttery with notes of brown sugar, raisins, nutmeg and milk chocolate
16yo
Fruity and deep. Aged in a combination of American oak barrels and the finest ex-sherry barrels. This type of aging produces a single malt with fruity and spicy aromas.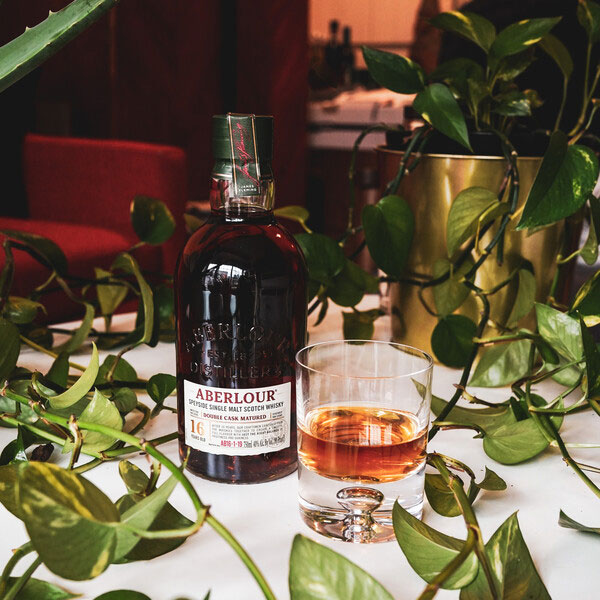 Tasting Notes
Colour: Deep amber.
Nose: Rich, with dry floral notes balanced by sweet aromas of raisins.
Palate: full and round on the palate. The sweet and spicy floral notes are combined with the aromas of plums, cherries and vanilla.
Ripe, deep and spicy. This whisky is fully aged in the best sherry casks. This whisky manages to conquer the most demanding palates. It is consumed at the end of an elegant dinner.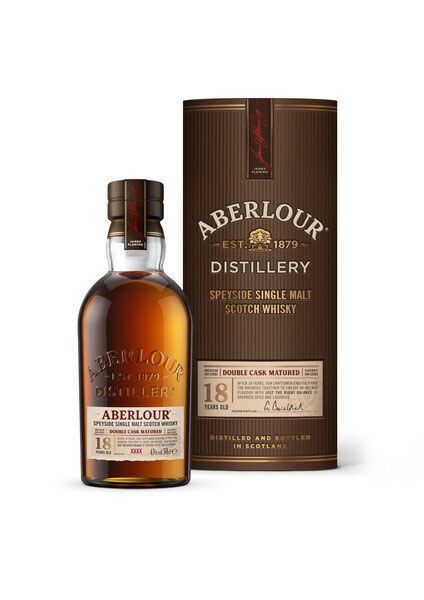 Tasting Notes
Colour: Bright amber
Nose: Rich and complex, notes of toffee and caramel that combine with the fruity ones of peach and bitter orange
Palate: a perfectly structured whiskey with initial notes of apricots and cream which subsequently fade into the background giving space to aromas of oak and honey
In Gaelic it means "rare barrel" and is a single malt with no age statement. Oloroso Sherry Spanish oak barrels carry notes of caramel and dried fruit.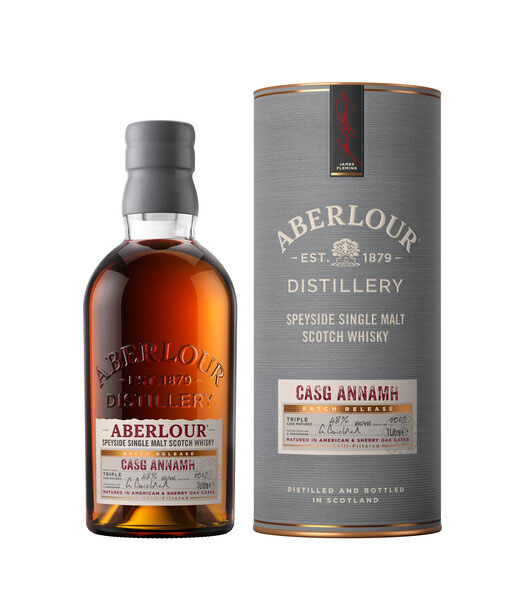 Note di degustazione
Colour: Amber.
Nose: The nose is fruity with notes of red apple, pear, sweet grape and caramel with hints of brown sugar and lemon peel.
Taste: The palate is sweet and with a good oiliness, we have notes of honey, butter biscuits, citrus and cinnamon with hints of licorice root and spices.
A'bunadh
A'bunadh means "the original" in Gaelic and is a toast to founder James Flemming. It is aged exclusively in Oloroso sherry barrels and is bottled at the strength of the barrel and not cold filtered. The result is a robust and deeply intense whiskey. It is a must for any whisky collection.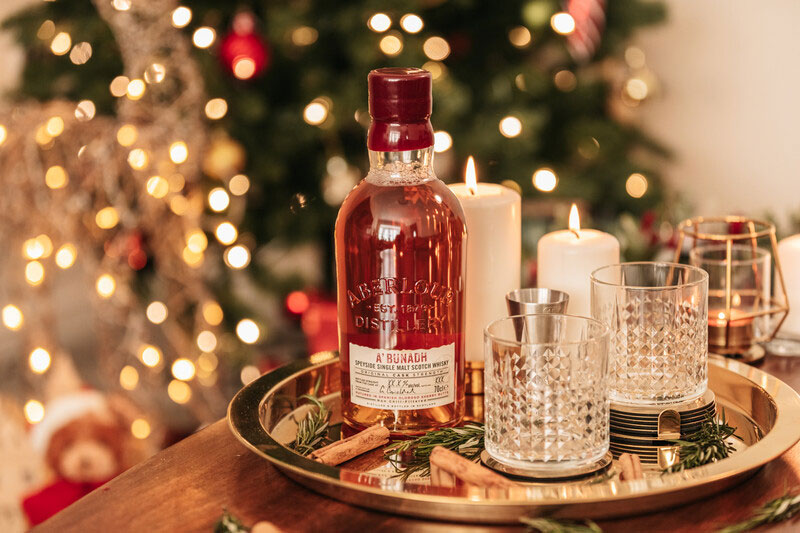 Tasting notes
Colour: Amber with red reflections.
Nose: Full of notes of sherry, dried fruit, toffee and caramel with a slight hint of creme brûlée, with the addition of water it becomes pleasant and notes of toffee and raisins are added.
Palate: Sweet with strong notes of caramel, dark chocolate and toffee, the water slightly lowers the sweet and brings out notes of sultanas and a slight hint of cherries.