Sadly, the summer is over.
As we head deeper into October, you're going to start feeling the chill in the air picking up. Autumn is upon us and, as beautiful as this time of year so often is, there's no denying the fact that many of us are going to miss the warmer days that summer brings.
With that in mind, you're probably wondering why this article is going to be all about Italian red wine ice cream.
After all, who wants to eat ice cream when the weather gets colder. Surely, the goal should be to find ways to warm yourself up, rather than cooling yourself down with a frozen dessert.
To that, we say, in the nicest way possible…
Nonsense!
There is never a bad time for ice cream. We could be experiencing the coldest winter in decades and we'd still find time (and space in our bellies) for some nice and tasty ice cream!
And that's especially the case when we can combine good ice cream with a great Italian red wine.
That brings us right back to the subject of this article.
Here, we're going to share a delightful recipe for a tasty red wine ice cream that will knock your socks off, no matter what time of year it is. Let's get started with…
The Ingredients
Before we get started with this recipe, we need to give credit where credit is due. This recipe comes from the brilliant Cooking With Janica, which you can find at https://cookingwithjanica.com/. We've selected this recipe because it's simple, fast, and results in the creation of a red wine ice cream that we fell in love with.
The recipe takes a little over an hour to complete from start to finish. By the end, you'll have enough ice cream to serve five people, which makes it a perfect dessert for a family meal. Of course, you could just keep it all for yourself and enjoy a portion of ice cream every evening for almost a week.
The choice is yours!
Now, let's dig into what you're going to need to prepare this recipe:
A bottle of the Italian red wine of your choice. Go with your gut on this one. Any red wine will do a good job, so your choice is going to come down to which wine you think will maintain its qualities when combined with ice cream.
A cup of half and half.
Four egg yolks
Two-thirds of a cup of brown sugar.
Two cups of heavy whipping cream.
A vanilla bean.
You'll also need an ice cream maker for the final step.
With your ingredients at hand, you're ready to start preparing your delicious dessert.
The Method
There are a few steps to get through here. Happily, they're all pretty simple, which means you shouldn't have too much trouble with putting this recipe together.
Step One
Before anything else, you need to get your red wine ready for turning into ice cream. That means reducing it down into a syrup that you can mix with the rest of the ingredients.
Pour the entire bottle of Italian red wine into a pot and leave it to simmer over a low-medium flame. Do this until the wine has been reduced so much that you're left with just a single cup of liquid. This can take up to an hour. Once the wine is reduced, pour it into a separate container and set it aside.
Step Two
Grab a different pot and pour your brown sugar and whipping cream into it. Then, use a sharp knife to slice your vanilla bean in half, using the knife to then scrape out the bean's innards into the pot. You can add the bean pod to the pot while you're at it.
Place the pot over a medium flame and stir constantly until the mixture starts to steam.
Do not allow it to boil.
Step Three
Use a whisk, fork or mixer to beat your egg yolks until they're a lighter colour.
Remove the vanilla bean pod from your whipping cream mixture and then slowly pour the cream into the egg yolks. Be patient here. Dumping the cream into the yolks can cause the mixture to curdle. Take it slow and steady to get it right.
Step Four
With the cream and eggs combined, slowly pour the entire mixture back into your pot and cook it over a medium flame. The mixture should thicken, taking on the same consistency as custard.
Use a wooden spoon to test the mixture.
If it sticks to the back of the spoon then it's done. Remove the pot from the heat at that point.
Step Five
Grab a large bowl and pour the mixture through a strainer and into the bowl. Add your reduced wine and your half and half. Then, stir it all together.
Step Six
Place the bowl in the fridge for an hour or two, allowing it to cool down.
Once cool, add the mixture to your ice cream maker and freeze it based on the instructions the maker gives you. You'll generally find that you'll have to freeze the ice cream for about 30 minutes, though you can freeze it for longer if you want harder ice cream.
The Final Word
And that's it!
This recipe gives you a gorgeous red wine ice cream that you can enjoy for days to come. It's simple to follow, though it does take a little bit of time to get all of the ingredients properly prepared.
All that's left now is to combine your dessert with a bottle of wine.
We recommend choosing a sweet and fruity red wine. Going too complex with the wine means you'll overwhelm the sweeter flavours of the ice cream, with the vanilla becoming a particular victim. Keep the wine simple and sweet and you're onto a winner.
So, now you need to get your hands on a bottle of Italian red wine for the recipe.
That's where we come in.
The Xtrawine store contains hundreds of Italian red wines for you to choose from.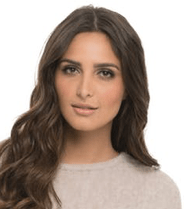 I'm a passionate about good wine and good cooking.
I like to keep me updated and share with my online friends my gastronomic knowledge.