In the eleventh century, a group of Italian monks began to infuse juniper berries in alcohol for the first time to create a liqueur with a medicinal function as well. This is how gin was born, right along the Amalfi coast. Inspired by this story, Malfy honors the origins of this distillate by offering a surprising gin which, together with Italian juniper, makes the Amalfi Coast lemon its main botanist. Malfy wants to combine tradition, quality and innovation in a unique product that is able to embrace the Italian lifestyle. Ideal for refreshing Gin Tonics, which enhance all the fresh and pleasant notes of lemons from the Amalfi coast.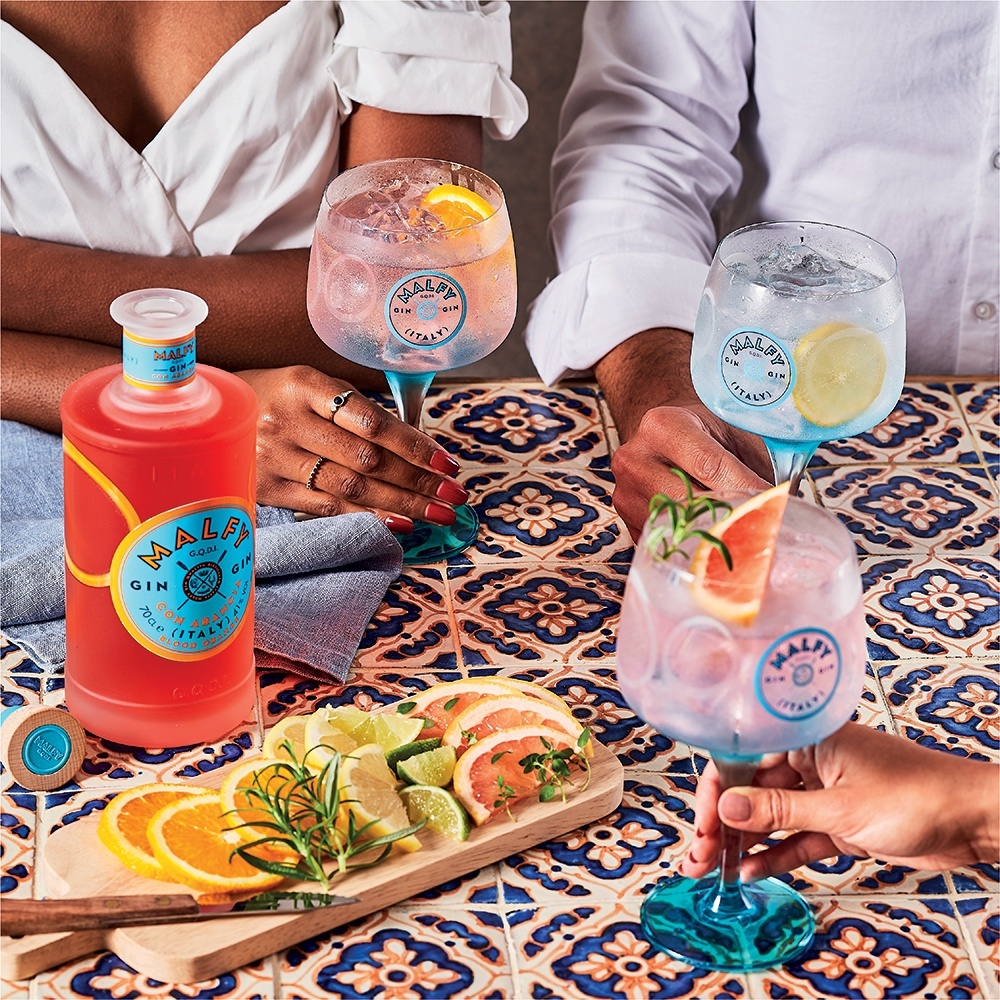 Produced in Italy and using some of the best botanicals including juniper, Italian lemons, pink grapefruits, oranges and mixed with Monviso water, Malfy is a truly unique and 100% Italian gin. Inspired by the lifestyle of the Amalfi coast, Malfy embodies its essence and invites you to enjoy every moment to the fullest. Created from the skilful fusion of authentic ingredients, Malfy is here to remember the Italian passion for sharing, laughter, love and for unique moments to be lived intensely.
The distinctive elements of Malfy: are the cap in Italian oak, the logo inspired by the symbols representing the four Italian maritime republics and, finally, the acronym G.Q.D.I. stands for "Quality Gin distilled in Italy". which is the stamp and guarantee of quality and of Italian origin.
Malfy Original
Malfy Original is a classic and dry style gin, made with plant products including Italian juniper peel and Sicilian grapefruit. The botanicals from which it is composed are juniper, coriander, cassia bark, angelica root, iris root, orange peel, grapefruit peel, lemon peel from Italian coastal lemons. Ready to try gin and tonic with Malfy Original, gin with 100% Italian ingredients with a unique taste? To create your perfect cocktail, you need 50 ml of Malfy Original, to accompany the tonic water; then abound with ice and decorate with a slice of lime, perfect for enhancing the scents and flavors of gin. Mix everything together in a cup filled with ice.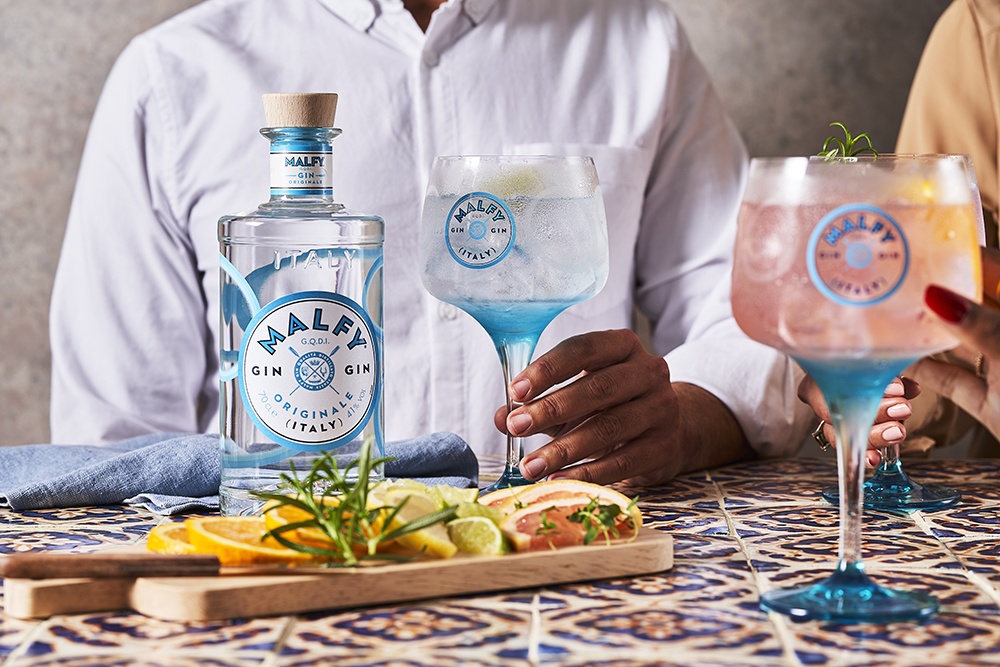 Malfy Pink
This pink gin has a nose of bright fresh grapefruit, rhubarb and citrus. On the palate it is rich in grapefruit and has a long juniper finish. The botanicals that characterize it are juniper, Sicilian pink grapefruit, Italian rhubarb, coriander, cassia bark, angelica root, iris root, orange peel and lemon peel.
A unique gin. Only Italian ingredients with grapefruit and juniper great protagonists. One sip is enough to fall in love with it. The ingredients are the same as the gin and tonic for Malfy Original but, instead of the lime slice, with the Malfy Rosa it is recommended to decorate the cocktail with a slice of grapefruit that goes well with the scent of the gin.
Malfy Arancia
This exquisite gin flavor is distilled with more than 5 botanicals including Sicilian blood oranges and juniper. On the nose you can perceive orange blossom and spicy and in fact on the palate it is slightly spicy, citrusy and characterized by classic herbaceous notes. The botanicals with which it is composed are coriander, Cassia bark, angelica root, Orris root, lemon peel and grapefruit peel.
Try the true essence of citrus fruits, Sicilian blood oranges and orange blossom blend together to create Malfy Arancia: for a strong and slightly spicy gin and tonic! In this case, what in the jargon is defined as garnish must be a slice of orange. Always mix well in a cup.
Malfy Limone
A delicious citrusy gin, Malfy Limone is distilled with some of the best botanicals, including strictly hand-picked juniper, sun-ripened lemons, and Amalfi lemon rinds.
Travel to Amalfi with just one sip: sun-ripened lemons, hand-picked juniper and a unique taste that makes Malfy Limone truly special!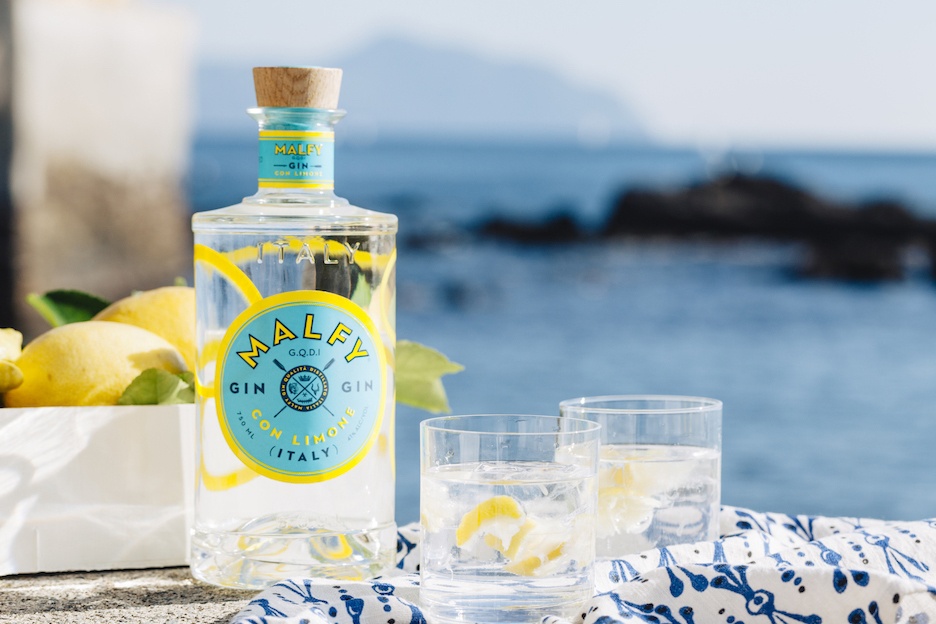 Tasting Notes:
Color: crystalline
Aroma: refreshing notes of citrus fruits especially those of lemon;
Taste: lemon followed by drier notes of juniper and more spicy notes of coriander and angelica.
For a perfect gin and tonic with Malfy Lemon, decorate with a lemon zest and a sprig of oregano.
MALFY, G.Q.D.I. : QUALITY GIN DISTILLED IN ITALY.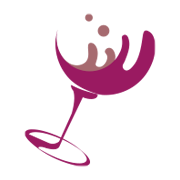 Interviste esclusive dal mondo del vino ed approfondimenti da chi fa del vino una ragione di vita, di business e di cultura.