The beautiful city of Siena is a stunning delight in Tuscany. And of course, the mere mention of the word "Tuscan" tells you that the city likely has an extensive history with wine. That is the case, as Siena is part of the long tradition of Montepulciano winemaking.
So, we think the city is worth exploring a little further. This article explains why an Italian wine lover may want to visit the stunning city of Siena. We also look at some things you need to know about the Montepulciano wines you'll probably be drinking during your visit. As you know, Montepulciano and Chianti wines best represent Tuscany.
The Reasons to Visit
If you're wondering why you should visit this ancient Italian town, we can explain some reasons.
The Palio di Siena Horse Race
A horse race may not seem like a particularly enchanting reason to visit a city. But there's something very different about the Palio di Siena Horse Race. It's one of Italy's oldest traditions, with the first race likely occurring during the 6th century. The race is also very different from any you've likely seen before.
How so?
The Palio di Siena Horse Race involves each of the city's districts selecting a horse and a jockey to represent them. All told, 10 districts take place in the race, and the winner is the first horse to circumvent the city's famed Piazza del Campo.
Now, the race only takes a few minutes. But what sets this event apart even further are its festivities. The race is a four-day festival with stunning wine and food. That makes it one of the biggest reasons to visit the city of Siena.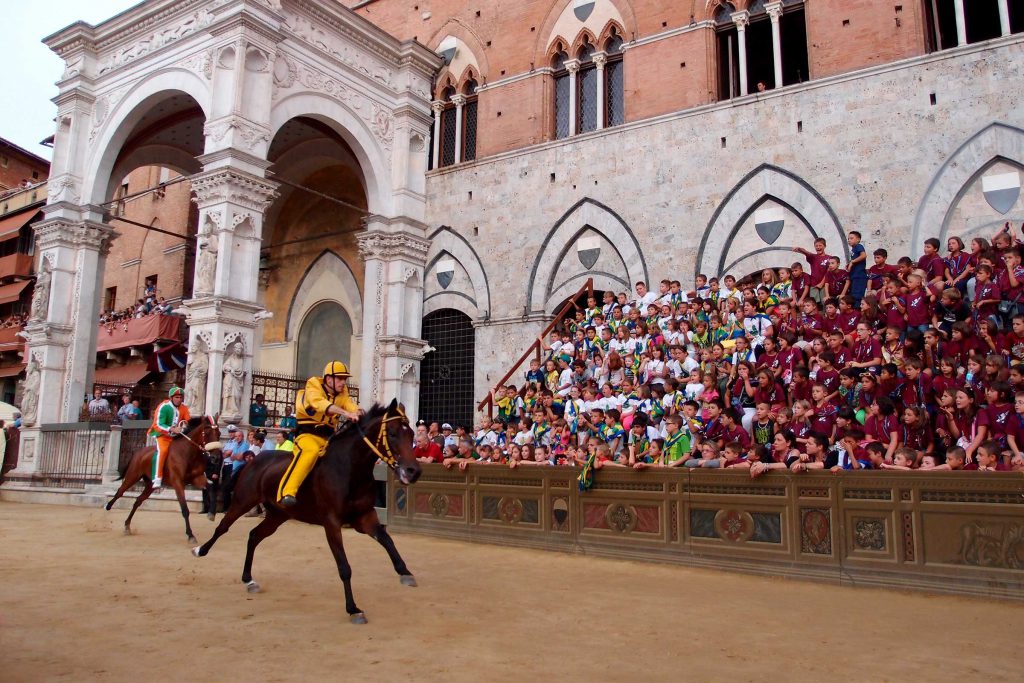 Visit the Piazza del Campo
The Piazza del Campo deserves a visit even when it doesn't have horses hurtling around it. Many consider it one of the great Medieval squares in European history, it has a stunning shell-shaped design and serves as a wonderful open space in the centre of the city.
If you do pay a visit, you'll be delighted to know that there are many cafes and bars around the square where you can enjoy a bite to eat, a cup of coffee, and a glass of Italian wine.

Stunning Architecture
Siena's old town has been named a UNESCO world heritage site for a reason. It has some amazing medieval architecture examples that you won't see anywhere else. Even a short stroll down the red-bricked streets of the old town reveals some impressive sights.
However, the fantastic Duomo di Siena is the true standout. This stunning Gothic cathedral has a unique black-and-white striped design. Towering above the Piazza del Campo, it's a true sight to behold from the outside. And when you wander inside, you'll be stunned to see outstanding art pieces from great Renaissance-era artists like Donatello, Pisano, and Michelangelo.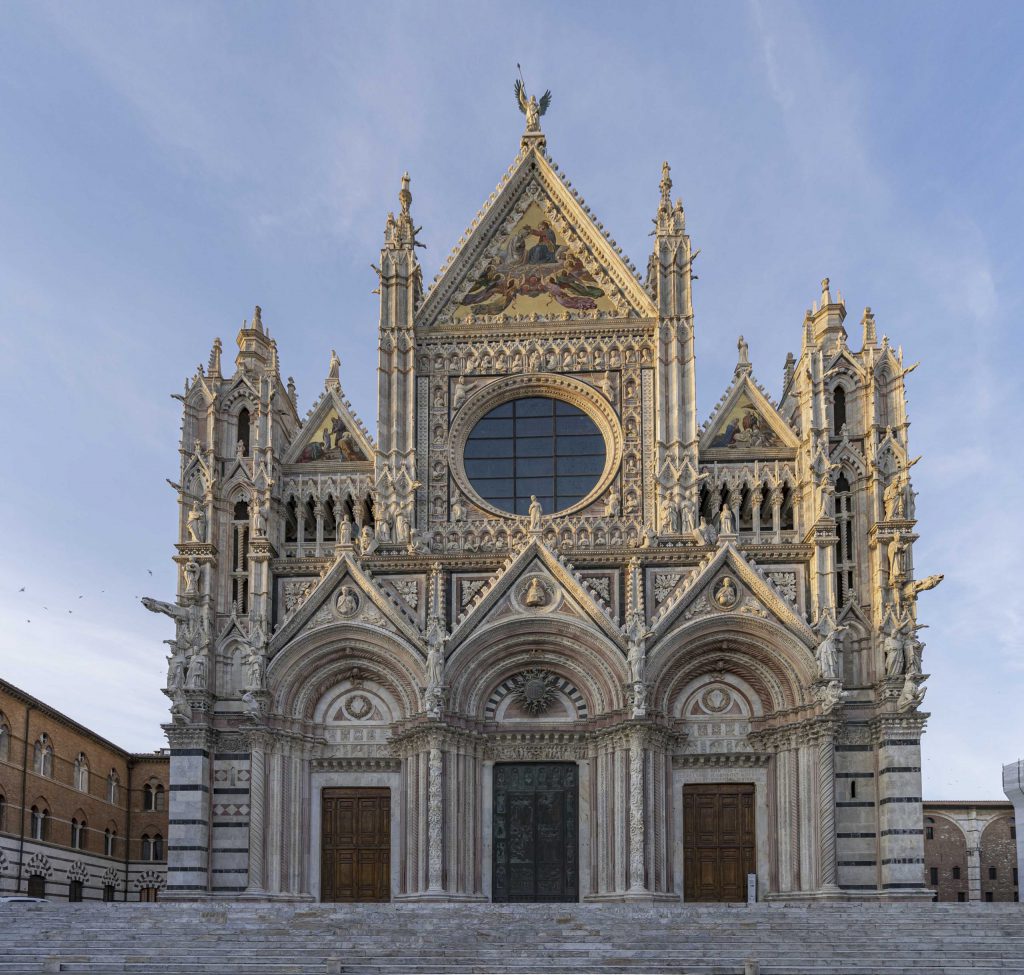 The Food
Siena is an Italian city.
It should go without saying that you will find some exquisite dishes in its vast array of cafés and restaurants. Of course, you'll be able to eat plenty of Italian staples. But if you want the try Sienese experience, we recommend trying pici and ricciarelli.
Pici is a pasta dish similar to spaghetti, though the pasta is much thicker. It's also usually served with pepper and either tomato sauce or cheese. After polishing off that main course, ricciarelli is ideal for dessert. It's a beautiful biscuit made using almonds that we're sure you'll enjoy.
As a result, the city has over 400 restaurants to choose from, meaning you're sure to find something to fall in love with.
The Local Wineries
Wine tourists can enjoy some wonderful glasses of wine with almost every activity on this list. But if you want to learn more about the Montepulciano wine Siena is known for, a local vineyard tour is a must.
There are many wine tours to participate in, though you'll have to take a short trip to Montepulciano if you want to see the wines from that region. You can still visit the Tuscan Wine School even if you don't want to journey to a vineyard. Located just a few minutes from the Siena cathedral, the school is great for learning about the region's wine. Plus, you'll get to savour local delicacies as you learn.
What You Need to Know About Montepulciano Wines
So, you've decided to take a trip to the town of Montepulciano during your trip to Siena. You'll have a chance to experience some beautiful wines and explore the town's amazing vineyards. Before you make the trip, here is a crash course on what you need to know about the wines of Montepulciano before you go:
The Montepulciano grape is a thick-skinned red wine grape that is easy to grow in large amounts. It produces a dry red wine with a medium body and tannin levels, making it a great introductory wine.
To pronounce Montepulciano, sound out the following phonetically – mon·tay·puhl·chaa·now
Italy currently produces 98% of the Montelpuciano in the world. Though most of this comes from the town that share's the grapes name, producers in the Marche and Piceno regions also use the grape.
The key elements in Montepulciano wine are typically berries and cherries. However, many examples also have plums, tar, and rosemary notes.
Montepulciano is best served between 60 and 65 degrees Fahrenheit and should be given some decanting time to express its full qualities.
The Final Word
Siena is a stunning city that is well worth a visit by anybody who finds themselves fascinated by wine, food, culture, and architecture. The ancient buildings in the city are a joy to behold, and the hundreds of restaurants you'll discover serve fantastic food and wine.
Of course, you can bring the taste of Siena to your doorstep if you're not ready to visit the city in person. Check out the xtraWine website; you'll find plenty of wines from the Montepulciano region.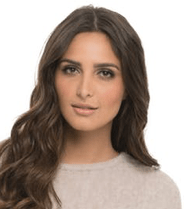 I'm a passionate about good wine and good cooking.
I like to keep me updated and share with my online friends my gastronomic knowledge.