Halloween is just around the corner.
Preparations for the scariest holiday of the year are unfolding. Organising a party or a horror movie-themed Halloween dinner? Have you thought about drinks? xtraWine certainly has!
Halloween decorations. Check.
Halloween costume. Check.
Halloween spirit. Check.
It is now time to plan the perfect horror movie-themed dinner or party and get the perfect wines to make yours, the party everybody will remember.
For this reason, xtraWine has worked with their xtraWiners and asked them to come up with ideas for a horror movie-themed dinner or party with the best wines.
But before we proceed, let's talk a little bit about the history of the most commercially successful holiday on the planet.
xtraWine curiosity corner: why Halloween, why pumpkins?
All Hallows' Eve is the holiday that precedes the All Saints' festivity. However, it is also the perfect example of cultural appropriation given that the festival has Celtic origins and it coincided with the end of the summer grazing season and the beginning of winter.
The name of this festival was Samhain.
Therefore, Samhain was much more similar to El Dia de Los Muertos than it was to any Christian celebrations. In fact, on the evening of Samhain, it was believed that the world of the gods would open. As a result, the gods would walk into the world of the living and play horrible pranks on them.
The Celts believed that without sacrifices and propitiations of all kinds, they would not be able to defeat the hazards of the season or foil the evil schemes of the deities.
Why the pumpkin?
Preparations for Halloween in the past involved carving ghastly faces into turnips, to make them resemble demons and devils. Burning candles were placed into the hollowed out turnips. The glowing carved faces were reminders of death and were also used to scare nasty neighbours! Nevertheless, in the 1800s, Irish and British migrants didn't have turnips and decided to use pumpkins instead. Hence, the scary pumpkin decorations!
Fast forward to today, Halloween is one of the most commercially successful holidays on a global scale. Although it may say a lot about our consumerism, it is also one of the few opportunities to have a lot of fun. And we ought to have fun in life!
xtraWine has prepared a full menu for your dinner or party. All based on pumpkin recipes. For each course, we will recommend an affordable, yet extremely good, wine from your very own online wineshop.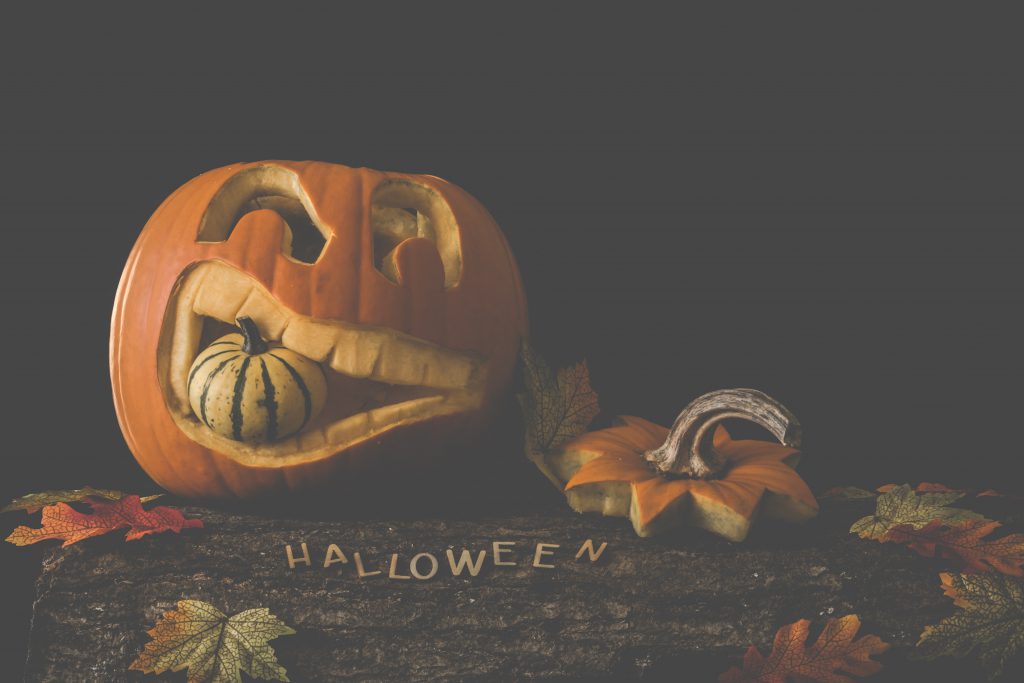 The House of the Devil's pumpkin pinwheels
We wanted to begin with a starter named after the first 'horror' movie: "The House of the Devil". Considered the precursor of special effects and horror cinematography, this movie was created by genius and inventor of 'trick photography' Georges Méliès,
To this date, it is considered the most amazing and mesmerising film in the history of mute cinema. And this starter will mesmerise and amaze your guests just as much.
How to prepare it and what wines to pair it with?
You will need the following ingredients:
We used three crescent roll sheets, bacon strips, cream cheese, pumpkin puree, shallots, parmesan, and plenty of herbs. There are also vegan alternatives that will be just as delicious.
How to prepare it
Start by preparing a puree from the pumpkin pulp. Use the mixer and add some milk to make it smooth and delicate.
Continue by cooking the bacon strips in a saucepan without overlapping them. You can use traditional bacon or the many delicious and tasteful alternatives.
Once cooked, remove the bacon strings and put them on a paper towel-lined plate.
In another saucepan start mixing diced scallops, finely chopped sage and garlic and let cook. Remove when soft and fragrant.
Take a large bowl and place the pumpkin puree, add cream cheese and add shallots, add parmesan for the extra taste and you can add any other powder you like (garlic powder, red pepper, whichever works) and stir until a smooth dough forms.
Open the crescent rolls and lay down the bacon strips, spread the dough and roll.
Place in oven for about 30 minutes.
When completely cool, slide onto a Halloween-themed serving platter.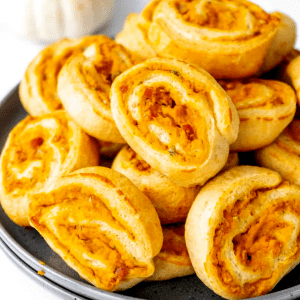 What wine to pair with the House of the Devil's pumpkin pinwheel?
For this starter, we recommend a young red wine, such as a Novello.
We have selected Fattoria del Cerro Rosso di Montepulciano 2021 or Massolino Barbera d'Alba 2021, both of which are currently on offer on xtraWine!
The Fattoria del Cerro Rosso di Montepulciano 2021 has received a high rating and it is perfectly paired with starters.
This ruby red young wine offers sensations of red fruit, myrtle, violet and cocoa that make the pairing divine. It also presents a valid structure with well-integrated tannins.
The Massolino Barbera D'Alba 2021 is an elegant, sweet, and tempting wine, with the intense and fruity notes characteristic of Barbera. The fact that the House of Devil's Pumpkin pinwheel has stripes of bacon makes the wine a good choice for this starter.
Michael Myers' Pumpkin and Bacon Risotto
Classical pumpkin risotto is a classic and it can be enjoyed all year round. However, our version will be a bit "bloody."
There are many pumpkin rice risotto recipes but we have preferred the one that sees the mixing of bacon (traditional, vegan or vegetarian) and pumpkin.
How to prepare it and what wines to pair it with?
You will need bacon (vegan bacon is just as delicious and flavourful), 1 pumpkin, 1 onion, 1 garlic glove, saffron and parsley.
To garnish the plates, you will need two tablespoons of flour, one tablespoon of corn syrup or corn oil and one tablespoon of red food colouring.
In a saucepan, mix garlic and onion, add parsley and start cooking very slowly, making sure the bacon stays soft. Once the mix is ready, add the bacon and let it cook slowly. Add the pumpkin and stir frequently until fully cooked.
Start cooking the risotto. We do not have specific preferences but, we would recommend cooking it with vegetable broth (homemade or readymade is based on your preferences and time!).
PICTURE HERE
While everything is getting ready, take a small bowl and mix two table spoons of flour and one tablespoon of corn syrup or corn oil and one tablespoon of red food colouring and mix. This will be enough for one plate so keep the ratio for each plate. This mix will give the red food colouring the 'bloody' consistency for your Michael Myers's pumpkin risotto.
Before serving, take the 'bloody' paste you have prepared and put little drops on the plate to simulate blood droplets.
Serve exactly like Michael Myers would do!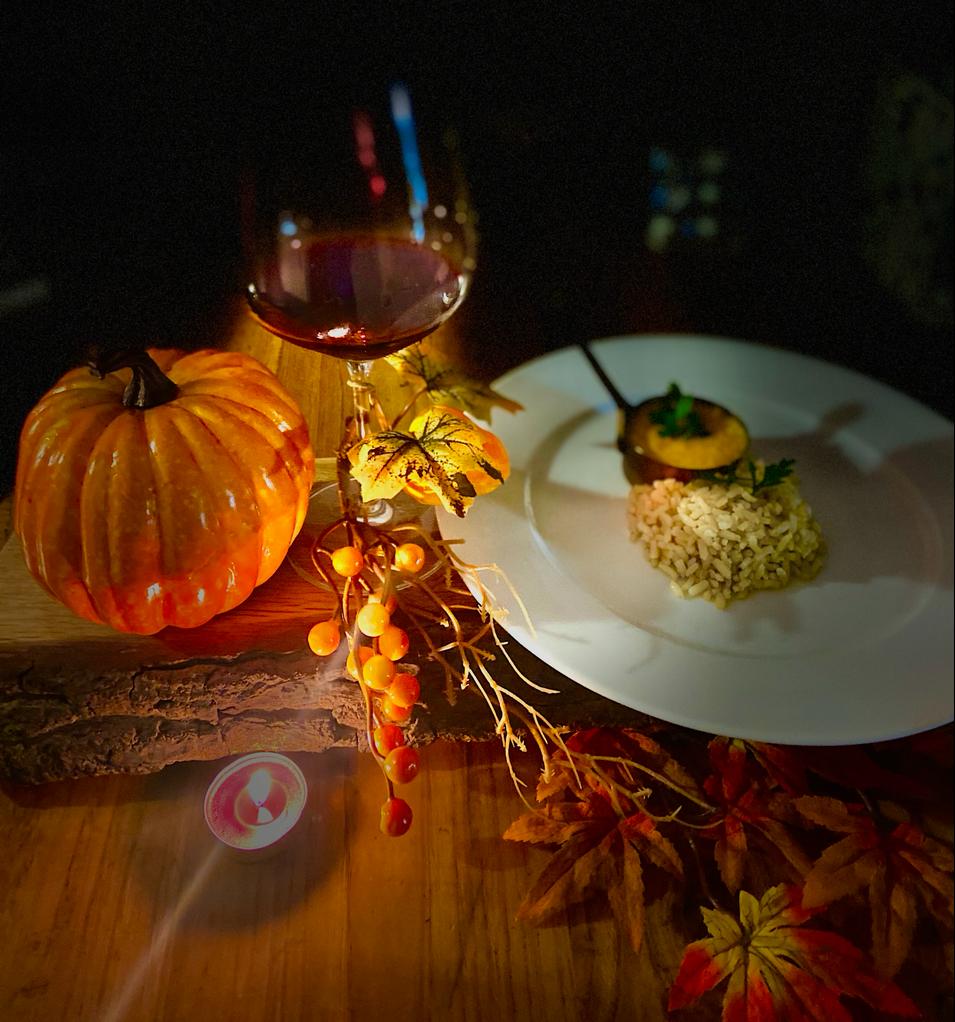 What to pair the risotto with?
Risotto with pumpkin is usually paired with sparkling wines. Nevertheless, it is Halloween, and the theme should remain with the red wine. So, we would recommend a Ca' di Frara Pinot Nero Mornico Particella 4 2018. The Ca' di Frara Pinot Nero Mornico Particella 4, 2018 is light and delicate, with a cherry and sour cherry aftertaste. It is ideal to bring out the taste of the pumpkin bacon risotto!

The House With The Clocks In It's Walls Pumpkin chocolate monster cookies
Last but not least, the sweets! "You can eat cookies until you throw up for all I care". So, we have chosen to fill up on cookies inspired by this iconic movie that has mesmerised many kids around the globe.
What will you need? There are plenty of recipes, but we have chosen a simple and super delicious recipe from AsianCaucasian.
The only change we suggest is to add dark and unsweetened chocolate chips to the mix to make the monster cookies even more terribly delicious!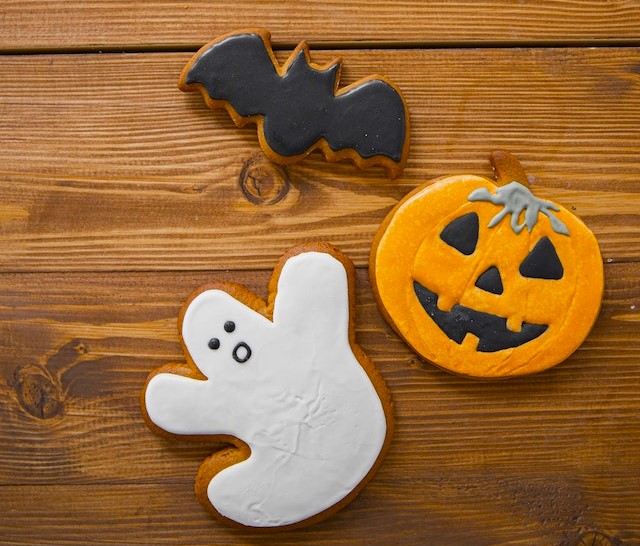 Which wine goes best with pumpkin chocolate monster cookies? We propose two wines for pumpkin cookies. One is a traditional dessert wine, while the other is a very good and light red wine that will be sweet enough to accompany the cookies. Therefore, these cookies can be served with Piera 1899 Friuli Cabernet Sauvignon or Guarini Oltrepò Pavese C'era Una Volta Sangue di Giuda 2021.
The Piera 1899 Friuli Cabernet Sauvignon is a perfect pairing given the unsweetened chocolate chips. The addition of chocolate to the pumpkin monster cookies already balances out the sweetness of the cookies. As a result, this wine is perfect. In fact, it presents a dark and spicy wine with hints of red pepper and red berries. Its flavour is full and velvety, with a sweet and delicate spiciness from tannins.
On the other hand, the Guarini Oltrepò Pavese C'era Una Volta Sangue di Giuda 2021 presents an intense, persistent, and fruity bouquet with hints of raspberry jam, blueberry, blackberry, and pansy. Its flavour is sweet and fresh, with a blackcurrant-lingering finish. Its aftertaste perfectly matches with the cookies.
There is very little left for us to do if not wish you all a Scary Halloween!