While we're always keen to talk about the many Italian delicacies that we think everyone should try, we also delight in sampling foods from other cultures.
And when it comes to classic American dishes, we can't help but feel our mouths start to water. Sure, the classic foods that come out of the States may not always be the healthiest out there.
But there's no denying that they taste so good.
We know that a lot of you reading this love the great American classics too. So we've decided to take a look at some of these wonderful dishes from our friends across the pond and a few of the Italian wine pairings that may add to them.
Dish #1 – Buffalo Wings
No, these wings don't come from the famed buffalo. That animal doesn't even have wings, so you'd be hard pressed to get your hands on them.
These are classic chicken wings doused in a special hot sauce made using vinegar and cayenne peppers. They may burn your tongue or prove a little too powerful for more delicate palettes.
But there's no denying that these wings taste so good.
First served in the 1960s, they've become one of the classic American bar foods. Typically, they're served with beer. However, you may want to drink something a little more refined that can also take the edge off the sauce.
If that's the case, we recommend that you go for a Zinfandel with this particular dish. You've got a task on your hands to find something that can contend with the hot sauce without diluting its potency. Zinfandel gives you a nice dose of sweetness to go with this dish, which tempers the sauce without being so powerful that it loses its flavour.
Zinfandel isn't an especially popular vintage in Italy. However, some Italian producers do make this type of wine, including some from the Apulia region. We recommend the Racemi Primitivo di Manduria Sinfarosa Zinfandel 2016, which earned a 95/100 rating from our team and 3 Bicchieri by Gambero Rosso.
Dish #2 – Apple Pie
There's a reason why the saying "as American as Apple Pie" exists.
This classic pastry combines the tanginess of one of the world's most popular fruits with a crusty pie base that's simply to die for. You can find Apple Pie at so many American restaurants and it's a go-to dessert for many an American family.
That beautiful combination of sugar, butter, fruit, and pastry is just too good to resist. But it's also extremely rich, which makes finding a suitable wine pairing a little difficult. You need something that meshes well with the sugar while also offering fruity notes that complement the apple.
But there's a nice bottle of Italian sparkling wine that does the trick.
And for once, we're not talking about Prosecco.
Instead, we think that Moscato d'Asti is the perfect wine to pair with Apple Pie. It's flowery and fruity notes mesh well with the sharpness of the apple, while the wine's sweetness ensures it's not going to get overpowered by the sugar and pastry.
You'll find a few examples of this wine on the xtraWine website. But we're especially partial to the Marchesi di Barolo Moscato d'Asti Zagara 2017 vintage. The wine has an 88/100 rating from our team and it's very affordable. Try it the next time you indulge in a little bit of Apple Pie.
Dish #3 – Tater Tots
We all love a nice portion of fries. But with tater tots, the Americans take the concept of fried potatoes a step further.
Let's be honest…these might fall under the junk food category. But they just taste so good that we don't even care. Every mouth of these potato chunks is just delightful.
However, they're often seen as a slightly childish dish or as a snack food at best.
That doesn't mean you can't combine them with an Italian wine though. We'd recommend a light white to go along with the lightness of the tater tots.
Pinot Blanc/Pinot Grigio works especially well. It's not going to overpower the tots, especially if you add a little salt into the mix. We have to say we found ourselves surprised at just how well this combination went together.
We recommend the Ronco Blanchis Collio Pinot Grigio 2017, which has an 89/100 rating from our team. Again, it's a very affordable wine, which is probably for the best as this isn't exactly the most complex of dishes.
Dish #4 – The Hamburger
How could we have a list of classic American dishes and not even mention the hamburger?
Let's right that wrong right now. While the Americans may not have invented the concept of putting ground meat in a bap, you can certainly argue that perfected it. There's simply nothing better than a juicy American burger that comes with all of the trimmings.
However, it's not the easiest dish to pair up with a bottle of Italian wine. If you're just eating a burger plain then you don't have any worries. A red wine that matches the richness of the meat will usually do the job.
But most burgers have an assortment of vegetables and sauces thrown into the mix. This can lead to a varied flavour profile that's very difficult to mesh with an appropriate wine.
Let's go with the classic mix of burger, lettuce, tomato, onion, and perhaps a slice of cheese. For this, we recommend the Ceci Otello Bruno Lambrusco Brut 2017.
A good Lambrusco offers enough sweetness to contend with the richness of the burger and the crispness of the lettuce. Better yet, this example isn't so overpowering that it makes the burger pointless.
The Final Word
It's sometimes difficult to pair American dishes with Italian wines. One could make the argument that the foods and wines come from two completely different ends of the flavour spectrum.
But a little experimentation can take you a long way.
These combinations show that it's possible to find Italian wines to complement some American classics. Give them a try yourself to see how well they work.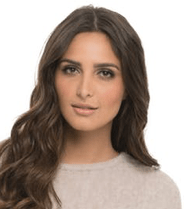 I'm a passionate about good wine and good cooking.
I like to keep me updated and share with my online friends my gastronomic knowledge.