Italian sparkling white wine.
What's the first wine that comes to mind when we say those words? We're betting that most of you instantly jumped to Prosecco. A few may have gone for Franciacorta. But there's no denying that Prosecco rules the roost when it comes to this type of wine.
Unfortunately, that also means that there are some amazing examples of Italian sparkling white wines that go completely underappreciated. As much as we love Prosecco, and we absolutely believe it to be one of the country's most amazing wines, there are many others that deserve a chance to shine just as much.
And that's where today's review comes in.
We aim to shine a spotlight on a sparkling wine that many outside of Italy haven't even heard of. In fact, we'd venture that any in Italy aren't even aware of this wine's existence.
But they should be.
Before we dig into the reasons why we love the Ballabio Farfalla Metodo Classico Extra Brut, let's take a look at the history of the company that created it. After all, it's only through understanding the philosophy of the creator that we can develop a true appreciation for the quality of the wine.
The History
Ballabio owes its name to the very commune that it calls home. Historically known as a cheese-producing commune, Ballabio has become increasingly known for its wines as its namesake company has grown in prominence.
From here on out, whenever we mention Ballabio, it will be in reference to the wine company rather than the commune.
Established right at the turn of the 20thcentury, Ballabio has been making wonderful wines since 1905. It also prides itself on being on the oldest wineries in the country to produce sparkling wines using the traditional methods. It also happens to be one of the older wineries in its region.
The company was founded by a man named Angelo Ballabio, who lent his name to the company. This is an interesting case of a man sharing a name with a commune near to where he founded his wine company.
It can get a little confusing!
During his life, Angelo was referred to be many as the "country doctor" of wine. Simply put, he knew more about wine that anybody else in the region and has a prodigious talent for crafting some truly amazing drinks. Angelo dedicated his entire life to learning as much about Italian wine production as he could. And the wines that he produced are evidence of the fact that this was a man of great passion and dedication. The hours upon hours that he poured into his craft are still evident today, many years after his death.
Interestingly, the legend goes that Angelo never once bough a litre of wine or a bunch of grapes. He didn't need to, such was his natural understanding of the vine and his dedication to learning his craft.
The only wines and grapes that he needed were the ones he crafted and cultivated himself.
And his passion for his own product started to pay off very early in the wineries existence. In 1911, it received its first national awards for the quality of its wines. And that has been a trend that it's maintained ever since. Today, Ballabio is one of the most well-respected producers in the country amongst those in the know.
Yet, the rise of Prosecco have led to many overlooking the company's products when they're looking for a sparkling Italian white wine.
The team behind Ballabio today hope to bring to the fore the philosophies that its founder worked so hard to foster. Combining modern production methods with a traditional outlook, the company's wines are still of the very highest quality.
For Ballabio, it's all about harmony. Creating harmony and balance in its wines is of the utmost importance. Achieving harmony between modern advances and the traditional ways of doing things is essential.
And achieving harmony in its vineyards to ensure all of the vines grow healthily and yield the best possible grapes is key to its success.
To achieve this harmony, the Ballabio team works to an established code of ethics that dictate everything that's done in the name of the company.
This code defines the standard that the company aims to meet in every aspect of its wine production. Since 1905, Ballabio has aimed to become a byword for quality in the Italian wine industry. It accepts nothing less than the best in its own production and it maintains its high standards thanks to diligent following of its code of ethics.
But that's enough about this wonderful and historic winery. We know that you want to find out about the Italian sparkling white wine that's capable of rivalling even the best Proseccos.
The Review
The creamy and fine froth of the Ballabio Farfalla Metodo Classico Extra Brut is the first thing that you'll notice when you pour this wonderful wine into the glass. It offers just the slightest hints of what is to come when you finally grant yourself a taste. The straw yellow colouring also shows you that this is a wine that's been aged to perfection. You know that it will be a true treat for the senses when you finally drink it.
But before you do, take a moment to appreciate the bouquet. Perfectly balanced, the aromas will wash over your senses. Peach and pear are the most noticeable, but there are many others that will delight your nose. Hints of fresh bread and roasted nuts help to give the wine a completely different dimension.
There is more complexity here than meets the eye.
Once tasted, you will see why Ballabio has such an amazing reputation. The wine is perfectly balanced and will dance around your palette. The creaminess persists for much longer than you may expect and the vivid tastes will live long in the memory.
Best of all, it's an extremely affordable wine. It can be yours for less than €20. And trust us when we say there's a very good reason why it has earned a 97/100 rating from our team and 3 Bicchieri from Gambero Rosso. Find it in our store today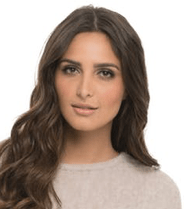 I'm a passionate about good wine and good cooking.
I like to keep me updated and share with my online friends my gastronomic knowledge.