Founded in 1860 by Edmond De Ayala, Champagne Ayala is an independent family-owned company based in Ay, at the heart of the Grand Crus.
Ayala champagnes are renowned for their pure style. Ayala is a pioneer in the introduction of lightly dosed divine wines.
Each cuvée is the result of meticulous savoir-faire and expresses the elegance of Chardonnay, the Maison's iconic grape variety, and the uniqueness of a place where everything is made on-site, starting with a diversity of unique crus in Champagne.
This masterful work, without artifice, reveals the essence. At Ayala, blending is an art, and purity is a signature.
Index:
Chardonnay: The Iconic Grape of the Maison
Chardonnay, the Maison's iconic grape variety, predominates in all the cuvées in the range. Thanks to its freshness and pure lines, it is the true essence of Ayala's style. Pinot Noir and Pinot Meunier accompany Chardonnay to sublime it.
The purity of the style also comes from the minimalist dosage of the wines, a feature that makes Champagne Ayala a pioneer in the region. The cuvée Brut Nature, without dosage, bears witness to this absolute commitment.

Champagne Ayala relies on extended aging time, which makes low dosage possible and is necessary for the development of a beautiful aromatic complexity. The Maison grants itself the freedom to store the wines in the cellar for as long as necessary, from 3 to 12 years.
This champagne is the quintessence of Chardonnay in an exceptional vintage. It is the Maison's emblematic cuvée.
Recognizable for its pure and creamy style at the same time, Le Blanc de Blancs is an authentic ode to Chardonnay.
Bright and contemporary, this prestigious cuvée matures in a special bottle that promotes the development of the organoleptic profile during its 6 years of aging in the cellar.
Organoleptic Characteristics
Very fine bubbles and abundant effervescence.
Bright, straw yellow with a white gold hue.
Great aromatic freshness on the nose, accompanied by tangy notes.
On the palate, it is lively and expansive, accompanied by flavors of white fruits, pastry hints, and citrus notes. The finish is long and persistent with a chalky minerality.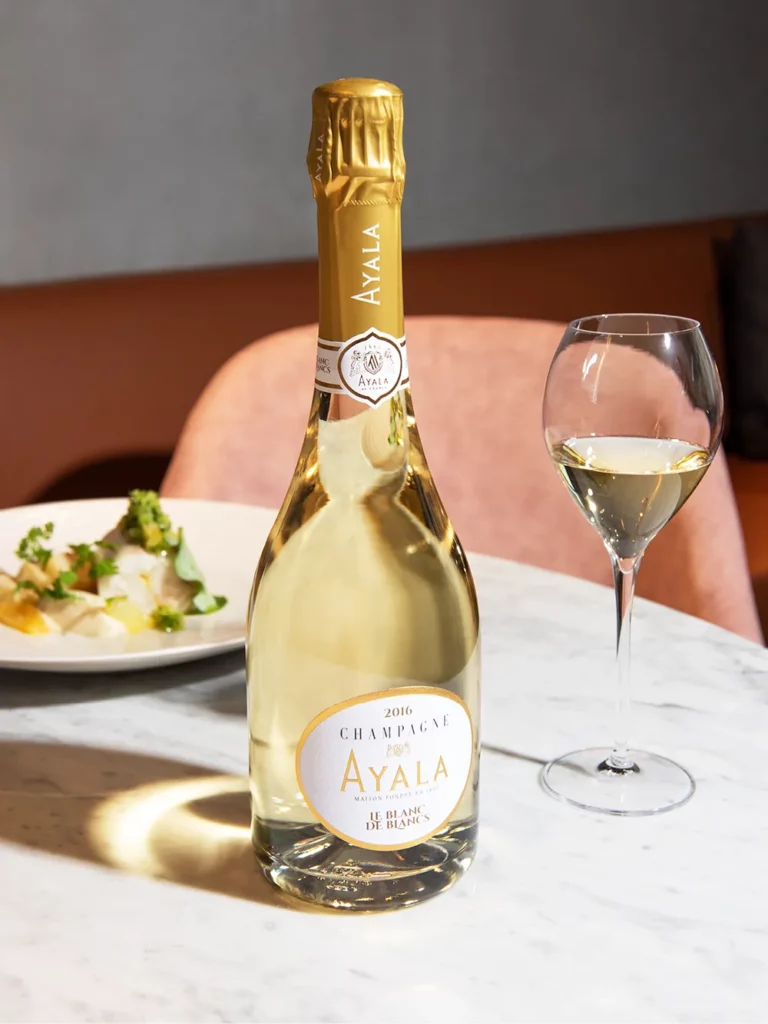 Pairings
An epicurean aperitif par excellence, Le Blanc de Blancs pairs splendidly with turbot in beurre blanc sauce, turkey with endive and lime, crottin de Chavignol cheese, or a Pavlova with exotic fruits.
Discover Ayala's best champagnes on xtraWine!