Pumpkin is synonymous with autumn. A perfect comfort food for cozy evenings with friends. Pumpkin soup is a vegetarian dish suitable for everyone, young or old.
Halloween is around the corner, so why not prepare a scary recipe to serve to your guests.
Index:
Ingredients
600 gr of pumpkin
200 gr of potatoes
1 liter of hot water
80 gr of onions
60 gr of extra virgin olive oil
3 bay leaves
salt to taste
pepper to taste
nutmeg to taste
1 level tablespoon of cinnamon powder
1 sprig of rosemary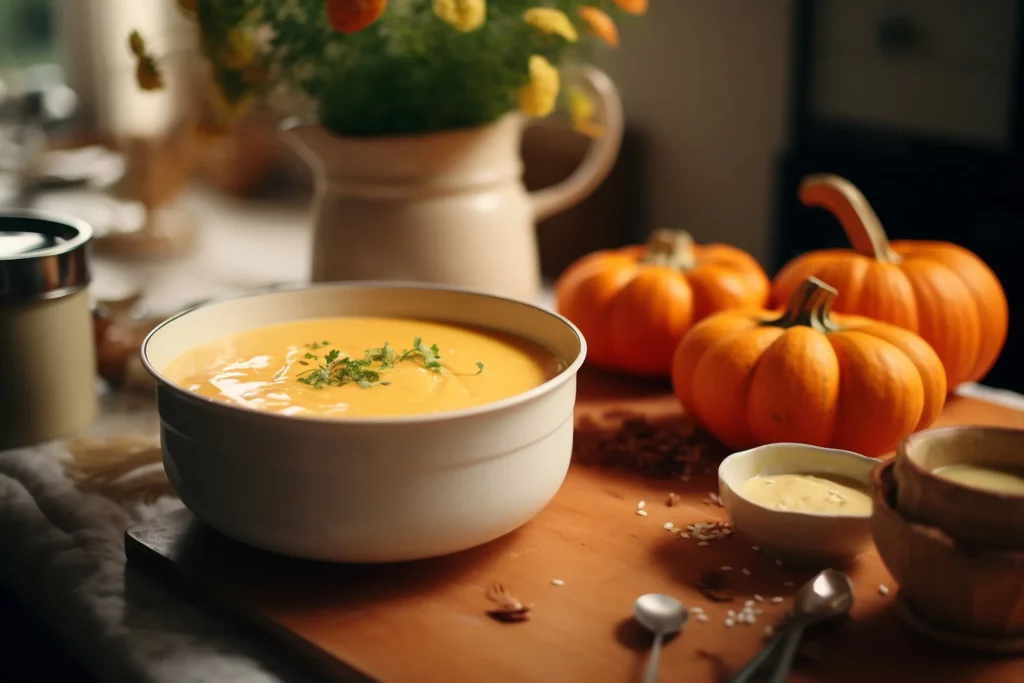 Procedure
Take a pot, pour the water, salt, bay leaves and rosemary sprig
Bring to a boil
Boil for 5 minutes, then turn off the heat
Clean the pumpkin, removing the peel and seeds
Cut the pumpkin first into slices, then into medium-large cubes
Wash and peel the potatoes
Cut them coarsely into cubes
Clean the onions and slice them thinly
Take a stainless steel pot, then pour in the oil
Add the onions and sauté for a few minutes
Then add the pumpkin and potatoes cut into cubes
Add salt, pepper, nutmeg and cinnamon
Stir and sauté for 5 minutes
Add the "broth" prepared earlier
Cook for about 40 minutes until the pumpkin is cooked. Check the cooking with a fork
Turn off the heat, remove the bay leaves and rosemary
Use an immersion blender to blend until you get a smooth and creamy mixture
Serve the soup hot.
In each dish add some croutons of toasted bread
Enjoy your meal!!
Wine pairing
The perfect wine pairing for this dish is a Traminer Aromatico from Trentino Alto Adige. Try Bottega Vinai Gewurztraminer 2021.
This wine has a bright, golden yellow color, with brilliant reflections. On the nose it is intense, rich, with very intense olfactory notes of tea rose and with subtle olfactory nuances of spices, such as thyme and juniper. In the mouth the wine is elegant and structured, very balanced, almost creamy. Very rich the aftertaste that expresses itself with long persistence, which evokes aromas of rose, apricot and dried pineapple.