When you hear those three words, your mind probably jumps straight to Italy. After all, the Italian wine industry is one of the oldest and most respected in the entire world. The country has a history with wine that stretches back for thousands of years.
It's one of the first countries anybody will mention when you ask them where the best wines in the world come from.
So, you'd naturally think that there are tons of Italians who you could call masters in the art of wine.
And if we're using the word "master" in the general sense, you'd be absolutely right!
But we said Masters of Wine, with capital letters!
That should clue you into the fact that Masters of Wine is actually an organisation. And as shocking as it may seem, this organisation has not inducted a single Italian expert into its ranks of "super experts"…
Until now!
2021 saw the Masters of Wine organisation take on its first Italian super expert.
We're going to tell you all you need to know about him in just a moment.
First, let's take a closer look at who the Masters of Wine really are.
Who Are the Masters of Wine?
To give them their full name, they are The Institute of Masters of Wine (IMW).
This institute houses the wine world's most exceptional levels of expertise. The few people who are inducted into the organisation are considered the cream of the crop when it comes to wine. They know more about wine from all corners of the world than anybody else. And collectively, they make up an institute that has a simple goal:
To promote excellence, learning, and enhanced interaction in every area of the global wine community!
Founded over 65 years ago, IMW started as a simple exam in the United Kingdom. The original version of the group comprised solely of UK experts and required anybody who joined to demonstrate an enormous amount of knowledge about the field of wine.
The IMW has grown massively since those early days.
It has gone from being a single-country organisation to becoming a global force in the world of wine. Today, IMW has 417 experts spread across more than 30 countries. And each of these experts is capable of making an enormous contribution to the collective knowledge amassed by the organisation.
Those who become Masters of Wine gain access to the most unique wine community in the world.
They get to build on the substantial knowledge they already have. And they get to for amazing personal and professional relationships with people who share their passion and are keen to work with anybody who loves wine as much as they do.
But being a Master of Wine is about more than sharing knowledge and learning with the community.
Those who achieve this status are expected to abide by a strict code of conduct. All Masters of Wine must act with integrity and honesty at all times. But most importantly, they must take every opportunity available to them to share their love and knowledge of wine with others.
The IMW is not an insular community that wants to hoard all of the world's wine knowledge.
It is a community of people who want to educate others about the many joys and amazing history of the global wine industry. Each Master has stories to share, insight to offer, and an amazing breadth of knowledge that we can all benefit from.
How Do You Become a Master of Wine?
Those who wish to become Masters of Wine must take part in an extensive study programme that culminates in an assessment and an exam. Each student is assigned a mentor, who is also always a current Master, to guide them through the process. And all students attend seminars and course days, in addition to completing assignments, while on their journey.
This is also not a "pay to gain" type of qualification.
Many hundreds of people have failed to obtain the Master of Wine designation, which shows just how difficult the process is. But even those who fail will walk away with an enormous amount of knowledge that they can then share with others.
The IMW also holds many public events each year, in which current Masters volunteer their time to educate both students and the general public. Examples include the IMW Symposium, which takes place every year, and specific tasting events for Claret and Champagne, which occur in wonderful cities like London, San Francisco, and Sydney.
So, we can see this is a prestigious institute. But the big news here is the first induction of an Italian member. Without further ado, let's introduce ourselves to…
The First Italian Master of Wine – Gabriele Gorelli
Born and raised in Montalcino, Tuscany, it's fair to say that the joys of Italian wine run through Gabriele Gorelli's blood. He hails from one of the country's most prestigious wine regions and he has spent his life dedicating himself to the development of his wine expertise.
Gabriele can trace his passion for wine tohis grandfather, who created one of the region's smallest producers of Brunello di Montalcino many years ago. But for Gabriele, making wines was never the real passion.
He loved learning about them.
He loved teaching people about Italian wine.
And that's what led him to a career as a marketing and branding expert for fine wine companies. He's the founder of both Brookshaw & Gorelli and KH Wines, both of which specialise in helping Italian wine brands with their marketing messaging. He also speaks several languages, is an avid traveller, and he has an insatiable hunger for learning more about the world of wine.
With his new designation as a Master of Wine, Gabriele now has the opportunity to link up with hundreds of other experts on both the personal and professional level. At Xtrawine, we offer our congratulations for his phenomenal achievement and we hope that he will be the first of many Italians who earn the Master of Wine qualification.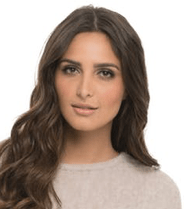 I'm a passionate about good wine and good cooking.
I like to keep me updated and share with my online friends my gastronomic knowledge.