By the time you're reading this, it's likely that Christmas will have come and gone. We sincerely hope that you had a wonderful day filled with friends, family, food, and more than your fair sharing of Italian wine.
But the celebrations aren't over yet.
With Christmas wrapped up, we have another big day ahead of use – New Year's Eve.
Yes, the dawning of a new year is upon us and it feels like it's come around crazily fast. We don't know about you, but 2019 has flown by fir the Xtrawine team. And now, we stand on the precipice of not just a new year but an entirely new decade.
We think that's a good reason to celebrate, don't you?
Now, we would normally recommend breaking out a few bottles of Italian wine to get the party started. And we definitely think that this is a thing that you should do.
But let's be honest…
There's only one wine that's suitable for ringing in the New Year – Champagne.
But you're going to have to move fast if you want to get your hands on some. With 2020 fast approaching, the clock's ticking down to the big celebration.
Need a little help?
These are the five best Champagnes that you can buy today directly from the Xtrawine Team.
Laherte Frères Champagne Les Empreintes Extra Brut 2011
What better Champagne to start with than the one that has the highest rating of all of the Champagnes that we offer?
The Laherte Frères Champagne Les Empreintes Extra Brut 2011 is a gorgeous wine that's also very affordable. Clocking in at €65, this isn't going to break the bank.
And in return for that investment, you get a wine that is at its peak maturity. Released in 2011, the wine has a 10-year ageing capacity. We're getting very close to that full potential being reached, which means now is the time to snap a bottle up.
Our team has tried it and they're absolutely in love with it. The fruity notes, which include pineapple, peach, and lime, are absolutely intoxicating. And while every wine on this list is a great selection for your New Year's party, we can think of no better than this one.
That's why we gave it a rating of 96/100. This is as close to perfect as Champagne can get.
Jacques Selosse Champagne V.O. Blanc de Blancs Extra Brut
From the affordable we go a Champagne that would definitely be considered a premium product.
Now, we'll say right off the bat that the Xtrawine team has fallen in love with the Jacques Selosse Champagne V.O. Blanc de Blancs Extra Brut. There's a very good reason for that too. The Champagne is one of the most remarkable that we've experienced in a long time, which is why it also gets a 96/100 rating from us.
The only reason that it's a little lower on the list is that it's not quite as affordable as the Laherte Frères Champagne Les Empreintes Extra Brut 2011.
Still, it's one of the most acclaimed wines of recent years, as these reviews from other publications will prove
Wine Spectator – 95/100
Vinous – 95/100
James Sucking – 97/100
If you're willing to spend a little more than you normally would (somewhere in the €300 range) this is an amazing Champagne to try.
Vouette et Sorbee Champagne Brut Nature Texture
What separates this Champagne from all of the others on this list?
It's the only one made using the biodynamic principles that have become so popular amongst a certain niche of wine consumers in recent years. The makers of this wine take great pride in the fact that it's completely natural and we believe that the biodynamic element lends the wine a certain quality that you won't find anywhere else.
But what if the biodynamic thing doesn't do anything for you. Is this a Champagne that's still worth your time?
We can answer that question with a resounding yes! The Xtrawine team gave this wine a rating of 95/100, which means it's one of the best Champagnes on our site.
Look out for the mineral hints. They're what really set this one apart from other Champagnes.
Louis Roederer Champagne Cristal 2012
Of all of the Champagnes on this list, this may be the one with the most interesting history behind it.
The very first of this type of Champagne was created as a gift for Tsar Alexander II of Russia way back in the late 1800s. Of course, time has melted away the exclusivity of the wine and it's now available for wider consumption. But in a nod to its heritage, every one of this bottles comes in a special bag that highlight the fact that it is a gift.
Of course, the quality is there too. Of particular interest are the notes of honey and chocolate, neither of which you'd typically find in a Champagne.
This is another expensive Champagne, clocking in at €229. However, it's also brilliant and is well deserving of the average rating of 95/100 that it's received between a variety of publications.
Bereche Champagne Le Cran Premier Cru 2010
Falling right in the middle ground when it comes to affordability, we have the Bereche Champagne Le Cran Premier Cru 2010.
This Champagne will set you back €90, but you will taste every euro in the fine perlage and gorgeous floral notes.
What strikes us most about this wine is its remarkable freshness. When the party's stretched deep into the night, we think it's the perfect tonic for weary eyes and tired feet.
That, alongside its many other qualities, is why we give this wine a rating of 94/100.
The Final Word
There are few wines that are as closely tied to the concept of celebrating as Champagne. And in this list, we've provided you with five of the best to ring in 2020.
Of course, you're not limited to Champagne. If you'd rather have an Italian wine for the big celebration, we have plenty of those on offer too. Check out our extensive catalogue to find the perfect wine for your big celebration.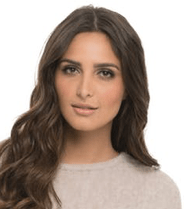 I'm a passionate about good wine and good cooking.
I like to keep me updated and share with my online friends my gastronomic knowledge.