We've said it before and we'll say it again.
Spaghetti is one of the true Italian classics. When you think of Italian food, it's either spaghetti or pizza that comes to mind first.
And of course, it's spaghetti and meatballs that most jump to straight away as the perfect combination. But that presents a problem. For our vegetarian friends out there, meatballs are a definite no-no.
And the idea of eating spaghetti, regardless of how good it is, without something to go along with it may not appeal.
You need something that's safe for your preferences and tastes amazing. And thankfully, the Italians have delivered with a spaghetti dish that's packed with non-meat goodness.
We're talking about Spaghetti Alla Norma of course.
Here, we're going to share an amazing recipe for it and talk about an Italian wine pairing or two that you might want to consider.
The Ingredients
Before we jump into the ingredients, we'd just like to give a quick shout out to Academia Barilla, who are the creators of this recipe. Their site contains all sorts of beautiful Italian foods for you to experiment with. We recommend it wholeheartedly.
They've come up with a gorgeous recipe for this Sicilian classic. If takes about 45 minutes to prepare and shouldn't take too much effort to put together. Here are the ingredients that you'll need to create six servings:
About 300g of spaghetti. You can substitute any pasta of your choosing here if you're not a big spaghetti person.
Five ounces of ricotta.
225g of aubergine.
Five basil leaves.
About 350g of canned tomatoes.
A single clove of garlic.
One tablespoon of extra virgin olive oil.
A 1.75-ounce onion.
A little bit of salt and pepper for seasoning.
As you can see, it's not a huge ingredients list. Gather it all up and you're ready to get going.
The Method
There are a few steps involved in creating this dish, but none of them are too taxing. As a result, this may be a great one to experiment with if you're fairly new to cooking and want to try something interesting.
Step 1
Chop your aubergine into chunks and then place the chunks into a colander. Leave them to drain over the sink. You can also sprinkle a little salt onto the chunks if you wish.
Step 2
Peel your garlic cloves and slice it extremely finely. You want it to be so thin that it practically melts in your mouth.
Step 3
Give the aubergine chunks a final rinse under the sink and pat them down using kitchen paper. Toss in a bowl with some salt and pepper to season fully. Add a little bit of olive oil to the bowl to ensure the seasoning sticks.
Step 4
Pour some of your olive oil into a big frying pan and leave it to get warmer over a medium flame. Once it's heated up, add your aubergines. The key here is not let them stack. Fry them for about 6 minutes and you should see them get softer and take on a golden colouring. Give them the occasional stir to ensure they cook evenly.
Step 5
Pop just a little bit more oil into the pan and add your basil and chopped garlic. Continue to fry while mixing everything together for about two minutes.
Step 6
Now, add your canned tomatoes to the pan. Use the back of the ladle to break them up so that they mix with the rest of the ingredients. You may also want to add a little bit of vinegar, but this comes down to personal preference.
At this point, you should drop the hit and allow the sauce to simmer for about 20 minutes. You should notice it take on a sheen and get rather thick.
Step 7
Pop your spaghetti into a pan of boiling water. Add a sprinkle of salt and cook it for about 8-10 minutes. You can go for the al dente method, which means leaving the pasta with a little bit of firmness.
Step 8
Remove the spaghetti pan from the heat and splash a cupful of the cooking water into your sauce. Mix it in while the spaghetti drains over the sink.
Step 9
Grate your ricotta while the sauce continues to simmer. You may also add a couple of torn basil leaves to the cheese.
Step 10
Pop the spaghetti in with the sauce and toss well to mix it all in. A little extra cooking water may help to loosen things up if the spaghetti starts to stick.
All that's left is to plate up! You can get six servings out of the spaghetti. You may also want to add a little extra grated ricotta to the top of the dish when serving.
The Italian Wine Pairing
So you've got this absolute Italian classic sitting on your table. Now, what wine do you pair with it?
There are a lot of interesting flavours going on with this dish, so you might think that finding a pairing is a tough task. However, there are a few Italian wines that go really well, as you would expect.
Pinot Noir is a good all-purpose choice as it's a red wine that isn't so powerful that it overwhelms the interesting mix of flavours in the dish. You get a splash of fruitiness to add into the mix too, which is always appreciated.
A Chianti Classico may also mesh well with the dish, though you have to be a bit more careful here. It's worth experimenting with the flavour profile of a couple of Chiantis to ensure you don't pick something that overpowers the dish.
What may be most surprising here is that you're learning more towards Italian red wines instead of whites. It's that mix of rich flavours coming from the cheese, tomatoes, and aubergines that make this a dish that's not the best for white wines.
But of course, it all comes down to personal taste in the end. And at xtraWine, you can find almost any wine that you may want to try with the dish.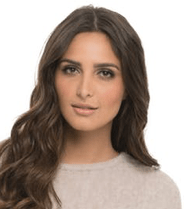 I'm a passionate about good wine and good cooking.
I like to keep me updated and share with my online friends my gastronomic knowledge.