There's a long-running history of celebrities who've decided that wine production is the thing for them. Perhaps the most famous of these celebrities is Johnny Depp. This is a man who spends tens of thousands of dollars every year on French, Spanish, and Italian wine. Plus, he produces his own wine that is solely for his own consumption.
That's right folks. Johnny Depp makes his own wine but you can't find it in any stores. It seems to us like he may be missing a massive money-making opportunity there.
It's an opportunity that Sex and the City star Sarah Jessica Parker is going to grab with both hands. The actress is the latest in a long line of Hollywood stars to throw their hats into the wine production ring.
Let's find out more about her and what she has in store.
Who is Sarah Jessica Parker?
If you don't know who Sarah Jessica Parker is, you clearly aren't a woman who was watching television in the early to mid-2000s.
Parker was the pivotal cast member of the huge TV show Sex and the City. The show was so massive that it went on to spawn several movies and millions around the world watched in anticipation as Parker's Carrie endured her "on again, off again" romance with Mr. Big.
The show combined deep fashion sensibilities with a superb cast to deliver laughs and drama to millions of people.
Of course, Parker had enjoyed a rich career before she shot to superstardom in Sex and the City. In the 1990s, she was one of the three witches in the brilliant Disney film Hocus Pocus. Many a kid grew up watching her play one of the movie's villainous witches.
Today, she's serving as a producer (and one of the stars) of the HBO series Divorce. Here, she plays a married woman who winds up having an affair, which is what leads to everything that happens in the series.
So, it's fair to say that Parker has enjoyed a long run in Hollywood and taken on a variety of different challenges. From a fashionista sexpot to a ditzy witch, she has the talent to put any role that she takes over the top.
And now, it seems like she wants to take on a new challenge. But this one may prove a little different to anything that she's done before.
The Big Announcement
Sarah Jessica Parker is going to lend her name and her brand to a completely new range of wines.
Strangely, she's opted not to go for a French or Italian wine. Instead, the Sex and the Citystar has decided to work with a producer in New Zealand to bring her new wines to the masses.
Teaming up with a company called Invivo, Parker has entered what both parties call a "long-term venture" to produce wines that take advantage of the actress' screen credibility.
So, what can we expect from the team up?
While there's not a lot of information that's been released just yet, we do know that Parker will launch a Rosé and a Sauvignon Blanc as part of the label in the summer of 2019.
Furthermore, this isn't a case of a celebrity just lending their name to a wine. Parker fully intends to take part in the winemaking process and will work with her new partners to ensure that the wines produced actually taste the part if they're going to carry her name.
According to Invivo, Parker will participate "in every aspect of making the new wine". That means taste testing, blending, and creating the label.
Invivo is keen to point out that this isn't a simple case of a celebrity who's lending their name to a bottle of wine to get a quick buck. As the company's founder puts it:
"We didn't want a silent partner or just a familiar face. We wanted someone who will throw themselves into the process and make wine that's all about them and reflects their good taste."
Instead, it points to the relationship that it has with British TV star and comedian Graham Norton, who also works with the company to create his own vintages of wine. Interestingly, the company has also teamed up with cricketing legend Sir Ian Botham to create a brand of wines in his name.
For her part, Parker seems to be looking forward to dipping her toes into the world of wine. She calls the move "a very exciting and fun project" and she reinforces the idea that she's going to be extremely involved in the whole process. She aims:
"to be very hands-on throughout – I'm so looking forward to traveling to New Zealand to see where the grapes grow and the wine is made."
So, the wine's still in the early days of its production and it appears that Parker hasn't started her work just yet.
What Do We Think?
Our opinion of this move is that we'll wait to see the quality of the wine that's produced. While Invivo is very keen to point out that this isn't a simple celebrity endorsement, they're also clearly making this move in an effort to bring more eyes to their product.
That's all well and good, and it's fine marketing, but they have to ensure they produce a product that matches expectations. Parker promises to bring in a completely different crowd to the people that Invivo has previously attracted with its celebrity-branded wines. They'll need to ensure that the wines they produce with Parker don't end up disappointing.
Regardless, we're looking forward to seeing what the team can come up with. Unfortunately, there doesn't seem to be any information about if or when the wine will find its way onto Italian shores. Perhaps Invivo has decided to hold back a little bit to ensure the wines they produce are capable of stacking up against the quality of Italian wines.
Still, we're looking forward to giving it a try and we wouldn't be surprised if we see more celebrities producing their own wines in the future.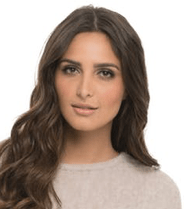 I'm a passionate about good wine and good cooking.
I like to keep me updated and share with my online friends my gastronomic knowledge.