There's something glorious about the simpler things in life.
It's the simple things, those little home comforts, that often bring us the greatest joy. We find comfort in them, perhaps due to the simplicity allowing us to escape the complexities of the modern world.
With nothing is this truer than with food.
For all of the hundreds of Italian delicacies we could talk about, there is just something so elegant and comforting about the simple combination of pasta, cheese, and tomato. This dish has been a staple of the Italian diet for centuries, and it has transcended Mediterranean culture to the point where it's a staple in many restaurants all over the world. Pasta is food for the soul and it doesn't need a ton of accoutrements to make it into something special.
Sometimes, it really is the simple things that work best.
And that brings us to today's article. Regular readers of our blog will already know that we enjoy sharing recipes for classic Italian dishes. Today, we're going to look at a dish that all Italians are familiar with. And of course, we'll offer a few hints about the Italian wine pairings that work best with it.
Let's make some pasta!
The Ingredients
Before we share the recipe, we'd like to say a big thank you to GreenValleyKitchen.com. Their recipe is what leads to the wonderful dish you're about to create – pasta with mozzarella and fresh tomato.
Let's dig into the ingredients:
A couple of cups of the pasta of your choice.
Enough fresh tomatoes to create 2.5 cups of chopped tomatoes. Three large tomatoes should do the trick here, though it never hurts to keep an extra one in reserve.
Half a teaspoon of salt.
6 minced cloves of garlic.
A bouillon cube, ideally vegetarian unless you're desperate to incorporate some meaty flavours into the dish.
A tablespoon of olive oil.
Three tablespoons of butter.
A handful of basil, which you should mince.
Some black pepper.
And of course, two ounces of diced mozzarella.
The Recipe
Clocking in at a little over 20 minutes of preparation and cooking time, this recipe produces enough to serve between two and four people, depending on your appetite. It's also very simple, with the bulk of the work coming with the tomatoes.
Here are the steps:
Step 1
Place a fresh pot of water on the hob and bring it to the boil, ready for your pasta.
As you do this, dice your tomatoes, if you haven't already. Add your half teaspoon of salt and about half of your minced basil to them and stir well to fully combine. As you
Leave the tomatoes to sit as you switch focus to your pasta.
Step 2
Once the water reaches the boil, add your pasta alongside your bouillon. Follow the instructions on the packaging to ensure you cook the pasta correctly.
Step 3
With the pasta cooking, you can switch your focus back to your tomatoes. Place a large sauté pan over a medium-high flame, adding your olive oil once the pan heats up. Spread the oil around the pan before adding your garlic.
Cook for 30 seconds while stirring before removing the pan from the flame. Make sure you don't overdo this, as it's very easy to burn the garlic at this stage.
Step 4
Take a fine-mesh sieve and use it to strain your diced tomatoes over your sauté pan. Catch as much juice as you can in the pan as you will combine this with your garlic.
Place the tomatoes to one side and cook the ingredients in the sauté pan for about 2 minutes, again ensuring you stir constantly until the tomato juice thickens a little.
Step 5
By this point, your pasta should be just about done.
Drain it using a colander and set it to one side. Then, turn your attention back to the sauté pan. Add your butter and swirl the pan over the heat until the butter blends into your tomato juice sauce.
Step 6
With all of the butter melted, take the sauté pan off the flame.
Add your pasta to the pan and toss well to combine. After this, add your tomatoes and pepper to the pan and continue tossing until fully combined.
Step 7
Serve the pasta in bowls.
For each, add some of the remaining basil, alongside your chopped mozzarella. Stir the ingredients well to combine and you're done! A gorgeous pasta dish made using fresh ingredients that are ready for the whole family.
The Wine Selections
Of course, we can't have such a classic Italian dish without a glass or two of Italian wine to complement it.
Fresh tomatoes always put us in a summer mood, so it stands to reason that this dish works well with summery wines. Remember that simplicity is the key here. Trying to complement this dish with a complex red will likely lead to the flavours in the wine overpowering the simpler flavours of the dish.
A nice Rosé may be a good selection here, especially as a complement to the tomatoes and mozzarella.
However, we can't help but fall back on the old Italian classic of Prosecco for this dish. A nice dry Prosecco is a joy as a complement for this Italian staple, as it lends a touch of its own flavour while meshing nicely with the tomatoes and mozzarella. It also helps that Prosecco isn't an especially sweet wine, so you don't have to worry about rich flavours combating one another.
But as always, our final recommendation remains the same:
Experiment with the wines you love most and you may find a pairing that you adore. After all, personal taste plays as much of a role in pairing food with wine as the recommendations we could provide. While we still recommend steering clear of complex reds, a nice Italian white wine, particularly one that doesn't contain a lot of sweet fruity notes, may work just as well.
And of course, we're here to help if you're in the mood to experiment. Check out our huge selection of Italian wines and we're sure you'll find something to compliment this classic dish.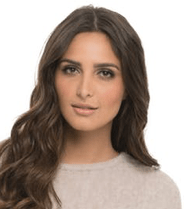 I'm a passionate about good wine and good cooking.
I like to keep me updated and share with my online friends my gastronomic knowledge.