Cavit's expertise in working with the Müller Thurgau grape variety is combined with their sparkling wine tradition. The result is an elegant and refreshing sparkling wine.
Müller Thurgau, a renowned autochthonous grape variety of Trentino, occupies a special place for Cavit. It is vinified both as a still wine and as a sparkling wine, including the exclusive Müller Thurgau Cuvée Speciale Millesimato, made using the Charmat method. With over thirty years of history, this label represents the excellence of Cavit sparkling wines, born of passion and tradition, and testifies to the well-deserved fame of Trentino as a region with a great vocation for winemaking and sparkling wine production. This inseparable link with the territory is further underlined by the designation "Dolomiti IGT" Even today, Müller Thurgau Cuvée Speciale is a reference in the ho-re-ca channel, particularly popular and prominent during aperitivo time.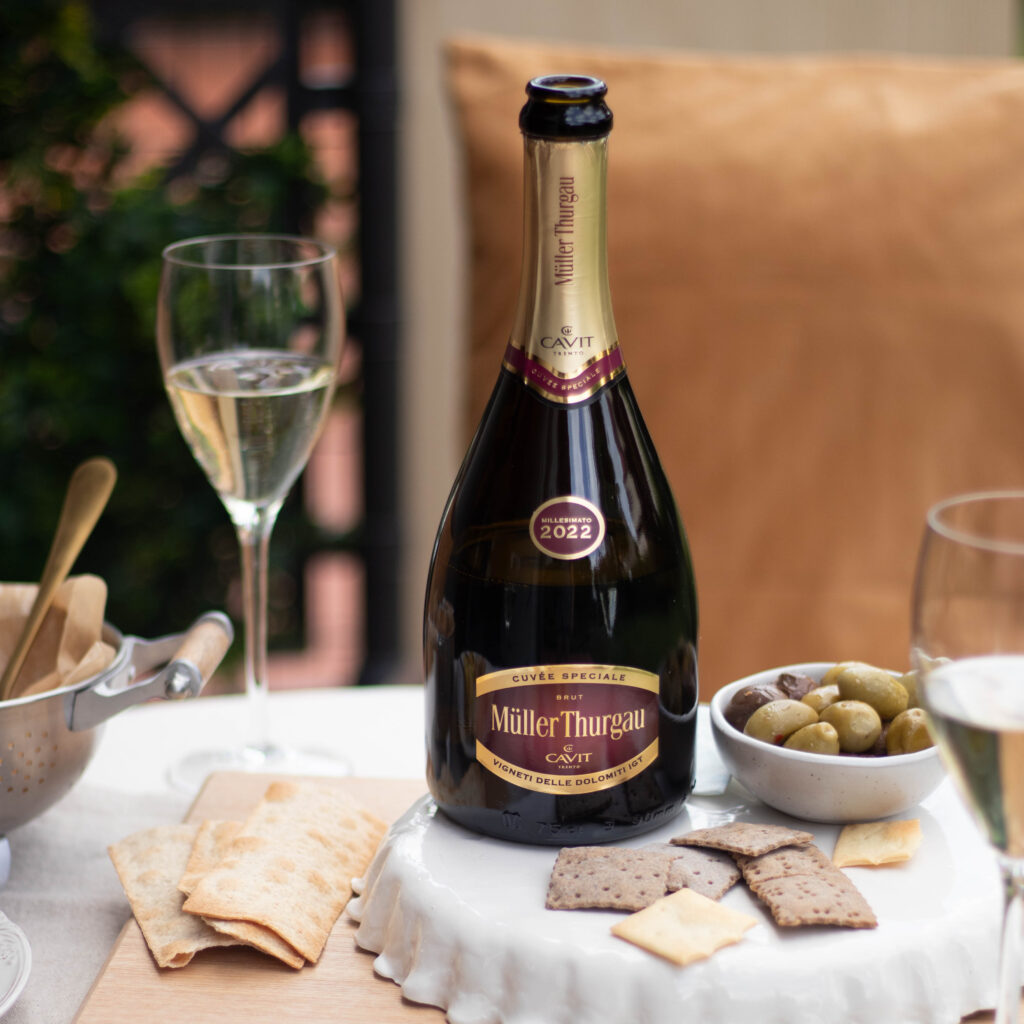 MÜLLER THURGAU CUVÉE SPECIALE MILLESIMATO
Müller Thurgau Cuvée Speciale is exclusively produced from Müller Thurgau grapes. This aromatic variety has its origins in the late 19th century when Swiss enologist Hermann Müller, originally from the Canton of Thurgau, created it by crossing Riesling Renano with Madeleine Royale.
Cavit's member winegrowers cultivate these vineyards in high hills and mountains reaching altitudes of almost 800 metres above sea level in the areas of Trentino that are particularly suitable for white grape production. Here, significant temperature variations during maturation occur, ensuring aromatic depth. The diversity of the soils contributes to this outcome, with glacial origin such as those of the Cavedine valley, volcanic soils such as the basaltic soils of the Brentonico plateau and those of the Cembra valley.
The grapes are rigorously selected and harvested by hand. After a gentle press with a short cold maceration on the skins, the vinification into white wine takes place at a controlled temperature. The sparkling process occurs slowly in pressure-resistant stainless-steel containers, enhancing the finesse of the varietal aromas even more. The result is a very fine perlage, producing a white foam and a persistent crown and the colour is a pale straw yellow with distinct greenish reflections. On the nose, one perceives a delicate, finely aromatic fragrance with a subtle spicy note. The taste is soft, pleasantly fresh, elegant and distinctive. It is excellent as an aperitif, but also goes well with shellfish.
CAVIT: TRADITION AND INNOVATION
Cavit, an acronym for Cantina Viticoltori del Trentino, is located in the heart of Trentino, in Ravina di Trento. It is a cooperative that brings together 11 Trentino social wineries, representing over 60% of the vineyard area in Trentino with over 5,250 associated winegrowers.
The company receives, examines, and selects the raw materials produced by its affiliated wineries and controls every stage of production, from harvesting to marketing.
In more than seventy years of activity, Cavit has developed a unique expertise in which the values of the supply chain merge with technological advancement and scientific research to create an approach to wine that combines tradition, innovation, and respect for the environment.
Making quality wine an everyday pleasure has always been Cavit's mission. All wines from the group's wines stand out for their excellent value for money, which is appreciated by a wide range of consumers worldwide. If you enjoyed this article, also read "Bottega Vinai: a window into Trentino Vineyards"
Discover the best wines from Cavit on xtraWine!