With Christmas having come and gone, we're all looking forward to what the New Year has to bring. We hope your 2017 has been filled with joy and laughter, and that you're looking forward to ending it on a high note. 2018 is just around the corner, which means you have the opportunity to start anew once again.
Of course, most people have their resolutions in place. Maybe you want to get a new job, or you finally want to start using that gym membership that's been hiding away in your wallet.
For us, our resolution is the same as it always is – find great wines and introduce you lovely people to them.
So with that in mind, we want to look at some of the great Italian wines that we think will help you welcome 2018 with a bang.
Ceci Otello Nero di Lambrusco
Do not let the low price tag fool you. This is not a budget wine that you should avoid. Instead, Ceci Otello Nero di Lambrusco is one of those few, rare wines that combines a low price tag with more quality than you can shake a stick at.
Hailing from the Emilia-Romagna region, it's a 100% Lambrusco, essentially making it a bubbly red wine. You may not have tried that sort of sensation before, but once you give this wine a crack you will not look back.
The product of several years of research and experimentation, the Ceci Otello Nero di Lambrusco is one if those wines that looks as good as it tastes. It has a beautiful violet red colouring, which seems to swirl endlessly around the glass.
To the nose, there are very strong hints of red fruits. Strawberries abound from the drink, but you'll also notice a couple of hints of raspberry sneaking in. There's also a beautiful forest scent that lends the wine an almost earthy texture, as well as giving it juts that little bit extra depth.
To the taste, you'll find a wine that achieves practically perfect balance, with all of the flavours exploring your tongue in perfect harmony. It's a soft and easy drink too, making it an excellent introduction into the world of Italian red wine for those who've yet to really explore it.
We think this makes a perfect choice for red wine lovers who want something celebratory, but aren't too keen on sparkling white wines like Prosecco.
Giorgi Gran Cuvee Storica 1870 Op Pinot Nero 2012
Speaking of sparkling Italian white wines, we'd bet that many of you assumed that we were going to look at a Prosecco as part of this list. Most Proseccos make great choices for welcoming a new year, so we thought we'd shine a little spotlight on a different sparkling wine that we think has amazing qualities of its own.
The Giorgi Gran Cuvee Storica 1870 Op Pinot Nero 2012 hails from the Lombardy region and uses 100% Pinot Nero grapes. It's one of our highest-rated wines of all time, and for good reason.
When poured, you'll notice a truly intense straw yellow colouring, with just the slightest whisper of gold weaving its way around as well. Of course, we're always fascinated by the bubbles, and this has an intense sparkle that we're sure you'll love.
Bring it to the nose and you'll find a lot of variety in the bouquet. As well as the fruitiness that you may expect from a wine like this, with apricot being the dominant note, there are other scents to be found. Vanilla helps to temper the wine, but there are also touches of mint and sage for you to discover.
It's a beautifully dry wine to the taste as well, achieving a perfect harmony that few other sparkling white wines can match. The wine has a rich texture that pulls you in instantly, plus a long aftertaste that will leave you relishing each sip while making you want more.
Zaccagnini Montepulciano d'Abruzzo Tralcetto 2015
A beautiful still red wine, this is another that falls into our affordable yet extremely high quality category. If you're looking for a great red wine to serve with a large dinner, this may well be the perfect choice. It's elegant, tastes amazing, and won't burn a huge hole into your bank account.
The intense ruby red colouring is exactly what you want to see in a red wine, as it tells you that the wine has been aged to perfection. There are also little violet streaks that you may catch a glimpse of, which makes the wine even more interesting.
Explore the bouquet and you'll come across some really intense flavours that hint at the power of the wine in the glass. This is one of those wines where the grapes truly are the star of the show, so you'll get a true scent of the Montelpuciano grape every time you give it a whiff.
Of course, it's in the tasting that most wines excel, and this one has a gorgeous fruity component that is both deep and welcoming. If you have guests who don't typically drink a lot of red wine, we think this is a perfect introduction into the world of Italian reds. It's punchy, without being so overpowering that those whose tastes don't usually go towards red wine will feel like it's too much for them.
Having said that, it has a full body and wonderfully balanced tannins. Plus, you'll notice the slightest hint of oak as you drink, lending even more to the wine's already impressive depth.
The Final Word
So there you have it, three great wines for welcoming the arrival of 2018. We've tried to look at a few wines here that cover the widest gamut of tastes, without being so expensive that you'll regret looking at your bank balance after buying them.
So all that's left to say from us is that we hope you enjoy the festivities, no matter what type of wine you choose. Have a Happy New Year and we hope 2018 brings you plenty more adventures through the world of Italian wine.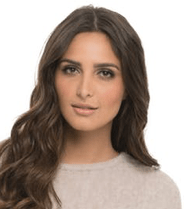 I'm a passionate about good wine and good cooking.
I like to keep me updated and share with my online friends my gastronomic knowledge.