Ireland and Scotland have always fought over who was the first to invent whisky, however no official documents exist to bring an end to this debate.
What we do know, however, are the differences between the two. Whisky is associated with Scotch and it's produced solely with malted barley and sometimes with grain. After it's distilled twice, the whisky is aged for at least three years in oak casks.
On the other hand, Whiskey is related to Irish which uses a mix of malted and non-malted barley. Unlike Scotch, it's distilled three times and the casks used for ageing don't have to be oak but wood in general.
You can recognise the diverse characteristics of the different regions that Scotch comes from, whereas Irish whiskey is more rounded and smooth, with less territorial differences, also due to the absence of peat.
SCOTCH
Scapa
The Scapa distillery was founded in 1885 by Townsend and MacFarlane on the faraway Orkney islands on the shore of Scapa Flow, a natural port and one of Great Britain's most historical waters.
The word Scapa means "boat" in Norse and it's the brand's symbol. Faithful to a small and artisan Island whisky, all the production is carried out by just five Scottish distillers and a Master Distiller Brian MacAulay. It is different to the other distilleries on the Scottish islands since it doesn't use peat, resulting in sweet and tropical flavours. To avoid any peated flavour, the water is taken from Orquil Springs creating a truly unique Single Malt.
The distillation takes place in only one pair of pot stills, one of which is a historical Lomond wash-still, the only one of its style to have survived. Due to its wide and tall neck, it's ideal for distillation and creates a rich and fruity new spirit. In the process of ageing, American first-fill casks are used, hand-selected and brought from Tennessee and Kentucky. These casks give a soft and sweet flavour to the Single Malt.
Scapa Skiren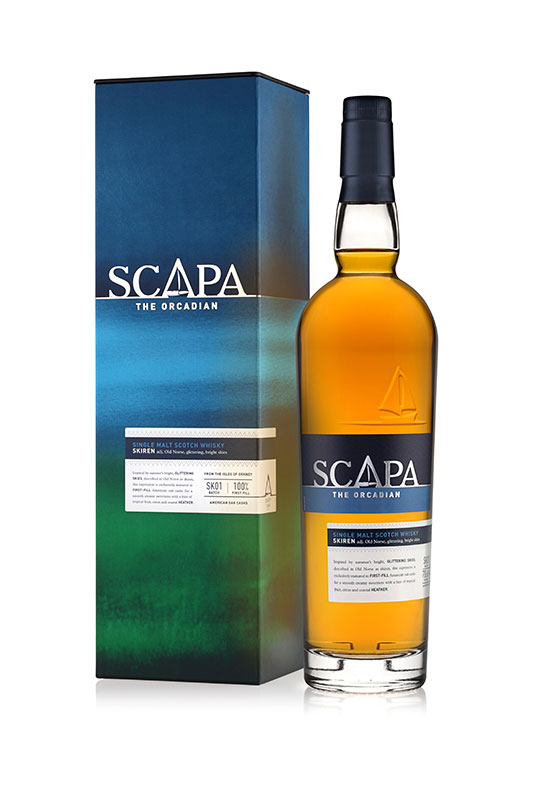 Scapa Skiren is a Single Malt Scotch whisky without an age statement and aged exclusively in first-fill ex-bourbon casks. It has a creamy sweetness that isn't common for an island Single Malt.
The name "Skiren" comes from Norse language and means "glittering bright skies"…
Tasting notes:
Colour: bright gold
Nose: delicate floral flavours with a bit of fresh pear. Sweet and fruity notes, pineapple and citrusy.
Palate: smooth and sweet, mature melon slices, explosions of pear and lemon.
Scapa Glansa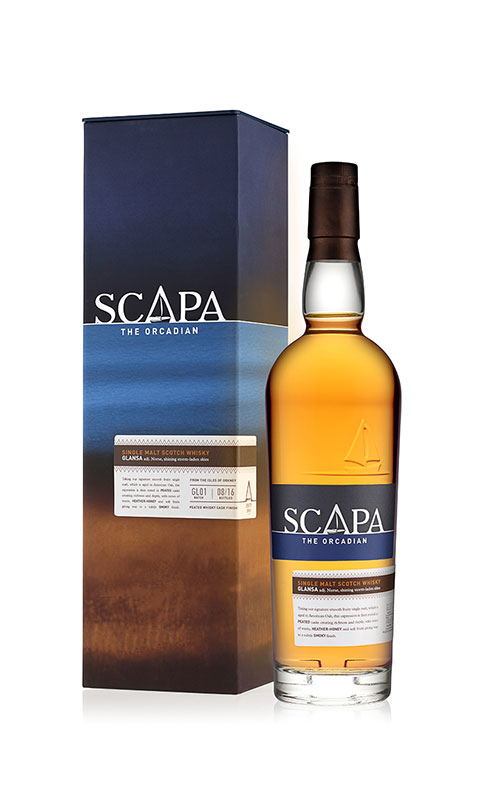 Unlike Scapa Skiren, this Single Malt has a lightly peated flavour. It's aged in ex-bourbon casks before being moved to casks that have previously contained peated whisky. This results in a rich and deep Scotch that is also reflected in the name of the whisky "Glansa".
The word in Norse means "stormy glittering sky" that represents the dramatic contrast between the peacefulness of the distillery and the stormy weather of Scapa Flow.
Tasting notes:
Colour: intense amber
Nose: vanilla, yellow fruit, lemon peel and a subtle smoky flavour
Palate: peach, pineapple, vanilla, ginger, and light smoke
IRISH
Jameson Black Barrel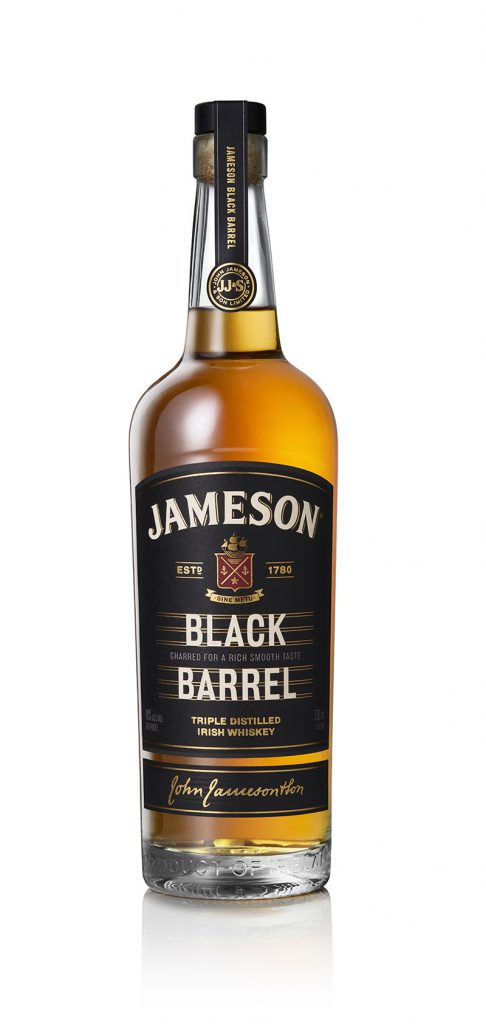 A Blended whiskey composed of whiskey pot still distilled in copper stills, column-distilled wheat whiskey and a small batch of grain whiskey which unlike the other two whiskeys – aged from 8 to 12 years in ex Bourbon and sherry barrels – a particular aging follows.
Before letting this batch rest for 8 to 12 years in ex bourbon, the barrels are charred twice. Double charring is an ancient process used to reinvigorate the barrels and make the whiskey flavour more intense.
The Jameson Black Barrel is our tribute to the coopers who work for us and who scrupulously dedicate themselves to charring the bourbon barrels to make use of its full potential of richness and complexity of aroma. Because each barrel holds secrets; the trick is to reveal them.
Tasting Notes
Colour: antique gold, apricot
Nose: butterscotch and caramel
Palate: well balanced, vanilla and hints of banana
Redbreast 12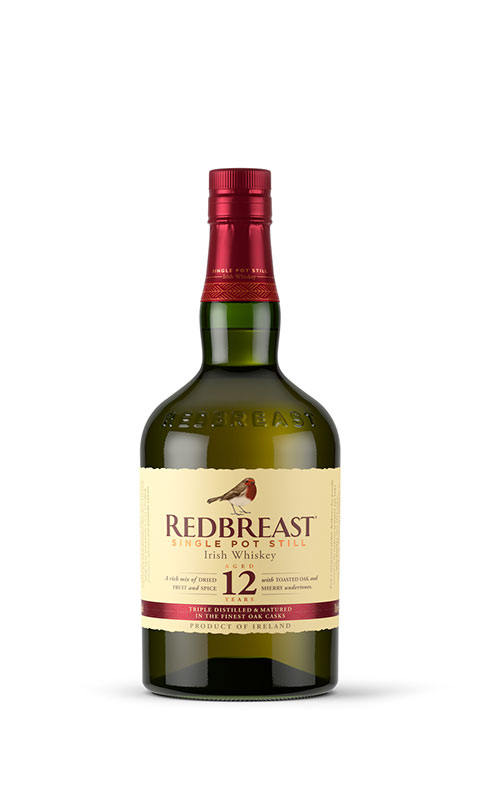 It is a historic brand now produced in Midleton. From 1905 to 1980 it was a brand owned by a Dublin spirits trader, who bought whiskey from Jameson; then it is bought by the newly formed Irish Distillers, which transfers all production to Midleton.
Redbreast is the most appreciated single pot still Irish whiskey in the world. The 12-year Core Range is characterized by aging in ex Oloroso sherry and ex bourbon cask barrels.
Among the main strengths is not only the control of the malted and unmalted barley supply chain coming entirely from the Midleton countryside where it is produced but also the recognition by the greatest connoisseurs of the best Irish in circulation.
Tasting Notes
Colour: deep copper
Nose: hazelnut, crushed cashews, honey and baked apples. Over time the sweetness becomes more layered with dried fruit, raisins and sultanas, cooked apples. Slightly vegetative and floral. Barley sugar and rum. Simple but effective.
Palate: velvety and with a nice roundness; again nutty, with caramel notes that again show only a delicious and savoury balance between the classic dried fruit and the sugar from the barley. Ginger and cloves linger on the extraordinarily long and warm finish. Lots of immediate taste considering the ABV of 40%.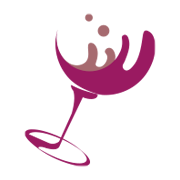 Interviste esclusive dal mondo del vino ed approfondimenti da chi fa del vino una ragione di vita, di business e di cultura.