Switzerland is a diverse and multicultural country. The festivities and customs in Switzerland during Carnival reflect the character of this beautiful country, which is why we can speak of a 'Carnival of Carnivals'. First, xtraWine will briefly tell you about the variety of these festivities. Then, we will give you an insight into how incredible Switzerland's giant Carnival is, namely that of the city of Basel, a celebration that has been part of the UNESCO Intangible Cultural Heritage since 2017.
Solothurn, Lucerne and Bellinzona: just a few examples of extravagance.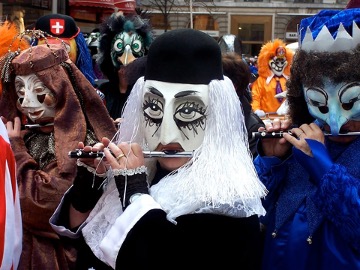 Let's begin this trip in Switzerland with the Carnival of Solothurn. It is an ancient festive moment dating back to the 15th century to say goodbye to winter and welcome spring. A straw puppet, Bög represents winter: it is set on fire at the end of the events, i.e., on Ash Wednesday, to drive winter away for good. On Carnival days, there are also numerous parties, dances, and processions, including satirical or humorous ones. Moreover, on the morning of Fat Thursday, a procession of undisguised people parades through the old town's streets, making noise with musical instruments as a sign of superstition and good luck.
Carnival in Lucerne is also very colourful and noisy. Here, the laws of Lucerne's canton stipulate that the Carnival's six-day duration is a bank holiday. The typical mask of Lucerne Carnival is Fritschi, an older man who parades on a float with his wife and son through the city streets, accompanied by a festive procession.
A final example of an extravaganza is the Bellinzona Carnival, which originated in 1862. It lasts five days, during which the town becomes a place of festivities and celebrations of various kinds. The Masked Procession is definitely worth a visit. The Carnival is an event attended by around 2,000 people who give life to a spectacular, humorous parade. For example, you can find music, allegorical floats made of papier-mâché, and many other activities, including theatrical performances, even for children.
But the absolute carnival jubilation in Switzerland is in Basel.
Basel: a Carnival that goes beyond the parade.
The Basel Carnival is referred to by its citizens as the 'drey scheenschte Dääg', i.e., the three most beautiful days. It is, in fact, the three days when merriment, colours and above all, beautiful lanterns enliven the city. Carnival starts at dawn, literally at 4 a.m., with the parade of lanterns that illuminate the still-sleeping city and kick off the three days of festivities.
And then there are the many masks, travelling groups or bands, folk songs and much more, right up to the 'Cortège', the procession of masked groups and floats.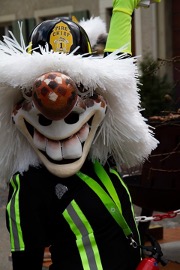 The characteristic feature of the Basel Carnival is the lamps, adorned with short but graceful anecdotes. This is the main feature of this Carnival, a narrative whose theme is set in the preceding months. A narration, however, also includes the stories told by the citizens during the festive evenings as they go from club to club. They can also be comments, serious or not, on the year just gone by.
The Basel Carnival began and continues to integrate all citizens into an inclusive community. People from different social strata and political or religious beliefs actively participate in making these festive days an inclusive experience. So much so that the Basel Carnival is a UNESCO Intangible Cultural Heritage.
Fasnachtsküchlein, the Swiss Carnival treat.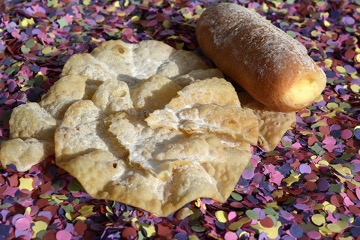 The Fasnachtsküchlein is a light, crispy biscuit known as 'knee biscuits'. Before frying, this is because the dough is made thin by spreading it over the knee. They are made of eggs, sugar and cream and are light even when fried.
So why not enhance them with a bottle of sparkling wine, such as a good glass of Fratelli Berlucchi Franciacorta Brut 25?

This Classic Method sparkling wine reveals a pleasant, fresh bouquet on the nose. Its taste is not particularly complex; on the contrary, its fragrance and tastiness make it smooth in the mouth. It is, therefore, ideal for balancing and counteracting the sweet fried Carnival in Switzerland!
Visit xtraWine for many more great proposals to enhance your Carnival treats!