To traditionalists, the idea of mixing Italian wine with any other drink is anathema. In their eyes, doing this means you distract from the qualities of the wine, leading to you not getting the full experience from your drink.
But not all wine drinkers follow these views.
That may include you.
If you're an experimentative drinker, you may find yourself wondering if you can combine your Italian wine with other drinkers to create some more interesting experiences. After all, wine has many qualities that could combine well with other drinks, just as these same qualities allow wine to be paired with food. With a little experimentation, you may be able to create some new drinks that emphasize the quality of your wine.
That's where this article comes in.
If you've ever wondered whether wine can be combined with beer, we have the perfect cocktail for you. And if you're not a beer drinker, we have a few other cocktails that help you do more with your Italian wine.
Idea No. 1 – Black Velvet
Though there are many drinks that you can rightly assume combine well with wine to make interesting cocktails, beer may not be one of them. The heavy nature of beer seems to be opposite to the lighter wine. However, choosing the right wine for the concoction can actually produce some interesting results.
This simple beer and wine cocktail only requires two ingredients:
Chilled white sparkling wine
A dark beer or stout
Creating the cocktail is simple. Add the sparkling wine and beer to a pitcher in equal amounts. Mix vigorously and pour. You end up with something that feels like wine and has that nice carbonated sparkle. But the taste is closer to beer, with just a few hints of citrus to balance it out.
Dark beer is important to this cocktail. Trying to use a lager or pale ale that has citrus notes could lead to a citrus overload, creating an unbalanced drink that you don't enjoy. Beyond that, this cocktail has an interesting history as it is believed to have been invented in England and first served to Queen Victoria when she was mourning the passing of her husband. For true authenticity, use Guinness Extra Stout to create the drink.
Idea No. 2 – White Wine Spritzer
A classic in pubs and bars throughout the world, the white wine spritzer is another simple cocktail that comes with two big benefits. The first is that it literally waters down your wine, meaning you can have a few extra glasses without feeling the intoxicating effects as quickly. The second is that the sparkling water used in the cocktail gives the wine a bit of extra fizz, making this cocktail a brilliant aperitif due to its refreshing nature.
It's another simple one to make, as it only combines three ingredients:
150ml of Italian white wine
100ml of soda water
Some ice
You may also garnish the drink with a lemon slice or mint sprig, though this is optional.
As for making the cocktail, the steps are simple. Grab a large wine glass and fill it with ice. Pour the white wine and soda water into the glass at the same time before garnishing.
Idea No. 3 – Quick and Easy Sangria
Now we're getting into some cocktails that people may be familiar with. Sangria is a Spanish classic that is beloved around the world. It's also the only cocktail we've featured so far that uses Italian red wine instead of white. It's a little tougher to make than the other cocktails on this list, as it requires quite a few ingredients and steps to get it right:
A bottle of Italian red wine
100ml of brandy
Two chopped oranges
Two chopped pears
Twp chopped lemons
A teaspoon of cinnamon
Three tablespoons of caster sugar
200g of chopped strawberries
300ml of sparkling water
Some ice
Despite the large ingredients list, making Sangria is pretty easy. Place all of your chopped fruit in a bowl and sprinkle your sugar and cinnamon over it. Stir the fruits to coat them fully before applying some plastic wrap and leaving the fruit in the fridge for at least an hour.
When you're ready to make the cocktail, grab a jug and add some ice. Take your fruit mixture and stir it again to dissolve all of the sugar before tipping it into the jug. Add the wine and brandy before stirring it all together. Finally, top the jug with your sparkling water and serve.
Idea No. 4 – Frosé
We've covered almost every major type of wine with this cocktail list. The only one left is Rosé, so this final cocktail is designed to make the most out of this perfect summer wine. This is an interesting cocktail as it involved creating what is essentially a grownup slushie, making it a great summer drink. Here are the ingredients:
A bottle of dry Rosé
The juice from one lemon
50g of caster sugar
300g of hulled and halved strawberries
We're going for a slushie cocktail here, so there's going to be some freezing involved. Start by pouring your bottle of Rosé into a deep roasting tin before placing it in the freezer overnight.
The next day, mix your strawberries and sugar in a bowl and leave it to sit for about 30 minutes. You should notice the strawberries start releasing their juices during this time.
After 30 minutes, blend your frozen Rosé with the sugar, strawberries, and lemon juice. Divide between glasses and you have the perfect summer cocktail.
The Final Word
Mixing Italian wine with other drinks may not be appreciated by traditionalists. But if you're willing to experiment, you'll end up with a bunch of tasty drinks that show you that wine can combine with anything, even beer.
This article has presented a collection of cocktails that use every major type of Italian wine. All that's left is to get your hands on the ingredients you need for your cocktail. Xtrawine's collection has everything you need to get started with these wonderful drinks.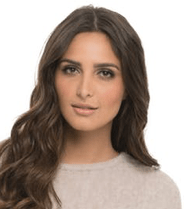 I'm a passionate about good wine and good cooking.
I like to keep me updated and share with my online friends my gastronomic knowledge.