There are so many great Italian dishes that it can often be difficult to choose just one for your next meal.
But with spring slowly turning into summer, we think that the best choices right now are those that are light and easy to make. After all, who wants to spend an eternity in a hot kitchen cooking up a meal when the sun is shining outside.
It's with that thought that we have decided to share a simple recipe with you in this article. We're going to combine the Italian classic of risotto with seasonal asparagus to make a light and easy meal that can feed several people.
The Ingredients
Before we dig into the recipe, we need to give a big shout-out to Elise Bauer of Simple Recipes. The recipe we're about to share comes from her and it is a truly stunning risotto.
With that out of the way, let's jump straight into the ingredients you'll need for this dish.
Two tablespoons of unsalted butter, which you should divide.
A cup of Arborio rice.
Four cups of chicken or vegetable broth. You may increase this to five cups if you prefer moist rice.
Half a cup of chopped shallots.
Half a cup of grated Parmesan cheese.
A quarter cup of white Italian wine.
Three tablespoons of water.
A tablespoon of lemon juice.
Half a pound of asparagus.
The asparagus needs a little extra preparation before you start creating the recipe. Trim it and cut the tips off. Peel off the tough skins that surround the spears and slice the asparagus into thin discs. This allows the vegetable to cook quickly, which is essential for this recipe.
Of course, you can adapt these ingredients list a little to your own tastes. Some prefer adding mushrooms to the dish, while others switch out the Parmesan for a different type of cheese. We recommend getting comfortable with the recipe first before adapting it to suit your specific tastes.
The Method
This recipe combines about 10 minutes of prep work, much of which you've just done with the asparagus, with 35 minutes of cooking to create a total preparation time of 45 minutes. Your result will be between two and three servings of risotto and asparagus, which amount to between 500 and 600 calories per serving.
With that out of the way, let's jump straight into the steps.
Step 1
Pour all of your chicken or vegetable stock into a saucepan and heat it until it comes to a low simmer.
Step 2
As the broth simmers, pop a tablespoon of butter into a different saucepan and place it over medium heat. Once the butter starts melting, add your chopped shallots and cook them for a couple of minutes. You should find that they become translucent when they're ready.
Step 3
When the shallots are translucent, add your rice to the second saucepan. Cook for about 2 minutes so the rice gets a nice coating of butter.
Step 4
Add your white Italian wine to the rice and stir slowly while heating to allow the rice to absorb the wine.
Step 5
After your rice has completely absorbed the Italian wine, you're ready to start adding your stock. However, you shouldn't add it all in at once. Instead, add half a cup of your heated stock and stir until the rice has almost completely absorbed it.
Then, add another half cup and stir. Continue doing this until you've used up all of your stock. You should find that this takes between 20 and 25 minutes, resulting in rice that is both tender and firm to the bite.
Step 6
Once you've reached your last half-cup of stock, add your asparagus along with it. Stir and cook the rice and asparagus mixture for a couple of minutes. You'll know you're done when the rice has absorbed the stock while still being loose and the asparagus is cooked through.
Step 7
Turn off the heat and add your Parmesan cheese and the remaining butter. You may also add pinches of salt and pepper to season. Gently stir until everything is combined before serving immediately.
The Ideal Italian Wine Combinations
Now you have your food, it's time to find a suitable Italian wine combination. Generally speaking, you want to avoid red Italian wines for this dish. The complex flavours of these wines will very easily overpower the more subtle flavours of the rice and asparagus. Even the chicken broth won't be able to stand up to the richness of a red wine, creating a disappointing experience where you don't get everything you hoped for out of the dish.
Instead, you want to stick to white wines.
The obvious choice is a Pinot Grigio. This wine has high acidity, which is exactly what you're looking for to cleanse your palate after each bite of your creamy risotto.
If you want to go for something a little less generic, both Verdicchio and Vermentino are stunning white Italian wines that pair perfectly with the flavours in an asparagus risotto. Again, you get that all-important acidity. But these wines typically offer citrus notes, along with notes of similar fresh fruits, that cut through the creaminess of the risotto without taking away from its flavour.
The Final Word
With this gorgeous recipe, you'll end up with a tasty asparagus risotto that tempts you in and keeps you coming back for more. It's also a healthy meal, weighing in at less than 600 calories per portion. If you're looking for something quick and easy to prepare for a quick summer snack that the whole family can enjoy, asparagus risotto is the ideal choice.
Wine pairing is simple too. As long as the wine has decent acidity and some fresh flavours, it will generally work well with this dish. Avoid red Italian wine and start with the three we've recommended here. Of course, you can find Pinot Grigio, Vermentino, and Verdicchio in the Xtrawine collection.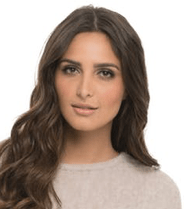 I'm a passionate about good wine and good cooking.
I like to keep me updated and share with my online friends my gastronomic knowledge.