Vinitaly 2023 is one of the largest wine fairs in the world and is held annually in Verona. This year's event will take place from April 2nd to 5th, 2023 and will feature over 4,000 exhibitors from around the world. Let's discover what the event will be about!
Index:
Italian Wineries: Excellence from Italy
Among the protagonists of the Vinitaly 2023 edition, Italian wineries will certainly be present, representing the excellence of wine in our country. Vinitaly is, in fact, a unique opportunity to discover the best producers and taste their wines, from white wines to red wines, passing through rosés and sparkling wines.
Among the Italian wineries present at Vinitaly, there will certainly be well-known names such as Antinori, Marchesi di Barolo, Frescobaldi, Astoria, Ceci, and many others. But there will also be smaller and artisanal wineries, representing the soul of the Italian territory, offering high-quality wines. Discover all the exhibitors of Vinitaly 2023.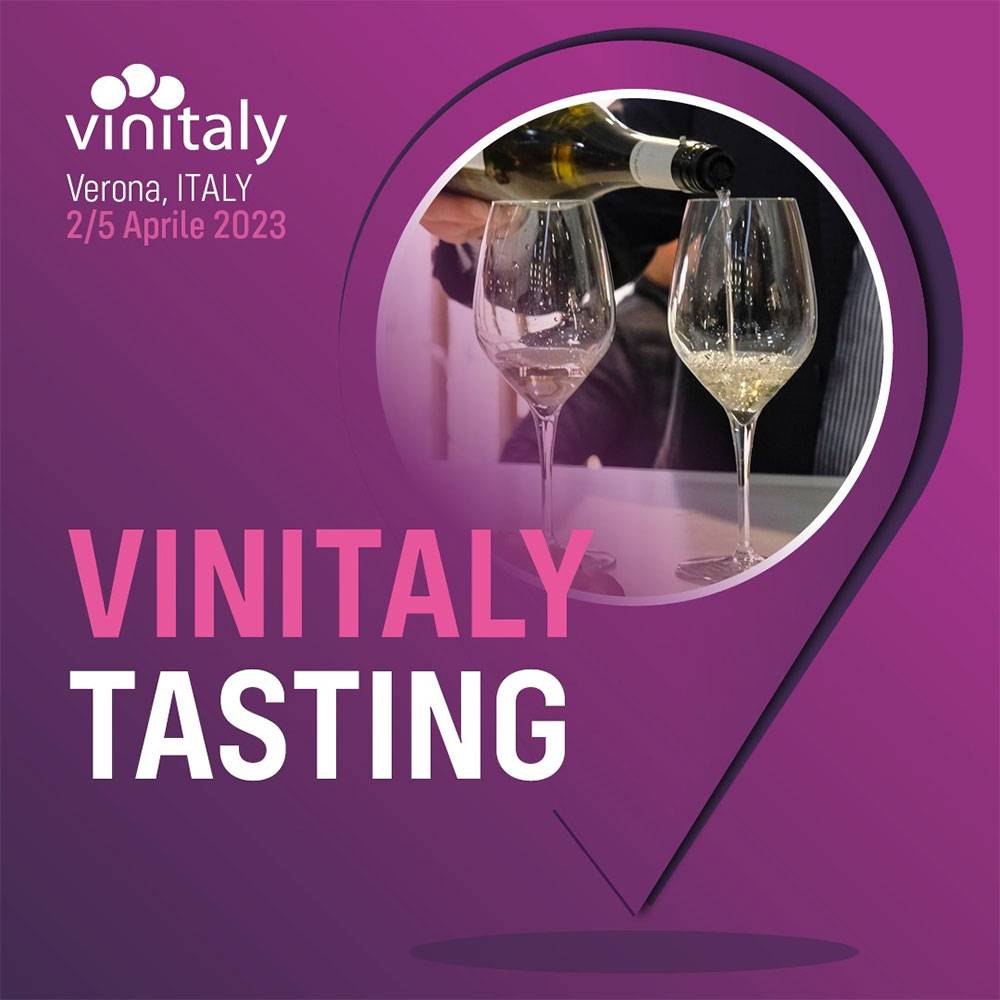 Vinitaly: not just about wine
However, Vinitaly is not just a wine fair but it is also an opportunity to attend conferences and meetings with industry experts, discover the latest trends in the wine world, and network with professionals in the field.
"In this time of great change, with challenges and opportunities, Vinitaly remains a global promotional brand capable of generating new outlets."

Federico Bricolo, President of Veronafiere
Vinitaly's theme based areas
Additionally, Vinitaly 2023 edition has decided to expand its exhibition offering with theme areas of major current interest:
Vinitaly Bio: this is the show dedicated to certified organic wine produced in Italy and abroad.​ Consumer interest in organic wines is booming and Vinitaly Bio, which is now in its 8th edition, is the most interesting showcase in Italy for producers who want to promote their organic wines. In addition to the stands an Organic Wine Bar is set up as well as many tasting rooms.
Vinitaly Mixology: aka the art of creating cocktails by experimenting with blends of alcoholic drinks and other beverages, in addition to wine or spirits.
Micro Mega Wines: a new section which has been created with the intent of showcasing the work of some of the country's best wine estates, big and small.
International Wine Hall: a hall dedicated to international wine production. ​The tasting area will host nu­merous guided tastings organised by com­panies or national institutions to reveal wi­nes and spirits from the five continents.
Vinitaly Tasting: is the tasting space organised by Vinitaly in collaboration with DoctorWine by Daniele Cernilli – where Italian excellence is presented to an audience of operators in the Ho.re.ca channel attending the trade fair from Italy and abroad alike.
Therefore, the 2023 edition will certainly be a unique opportunity to experience wine. Something xtraWine surely loves!
Vinitaly 2023 for Wine Lovers
If you are a wine enthusiast or, simply, want to discover the excellence of the Italian territory, Vinitaly is an unmissable event. Book your ticket now and get ready to experience a unique wine world. And lest not forget about the beautiful location! Vinitaly 2023 has also included a tour of the wonderful Verona.
Vinitaly and the City is, in fact, a journey of discovery part of the whole VInitaly 2023 experience, revealing excellence in wine and the beauty of the most significant locations in the historic centre of Verona. Verona is, indeed, a UNESCO World Heritage city.
So, from Friday 31 March to Monday 3 April get ready for:
Wine experience
Masterclass
Mixology
Talks and meetings
Guided tours
Do you want to know the schedules and/or do you want to buy the ticket?
Consult the xtraWine events of the month of April.
Amo la buona cucina e le tradizioni enogastronomiche italiane, per me vino e dessert non sono solo un contorno ma la parte più interessante del buon vivere.