It is in the magnificent Tuscan countryside, between the region of Chianti Colli Fiorentini and Chianti Classico, that Uggiano winery stands out. The winery is already well-known and receives regularly international recognitions thanks to its qualitative perseverance.
A 50-years-long story
Uggiano Company was born in the Castle of Montespertoli in the early Seventies by the hand of Giuseppe Losapio, winemaker with a French background. In 1976 Uggiano's cellars expanded and were located in San Vincenzo a Torri near the River Pesa, among monasteries, churches, mansions and farmhouses, evidence of the past Tuscan Tradition.
Generation Continuity
In 2015 three ex-employees took over the Company and collected the professional background of Giuseppe Losapio. The three historic collaborators decided to invest in the future of Uggiano to continue its adventure story and aimed to the excellence. Let's know them: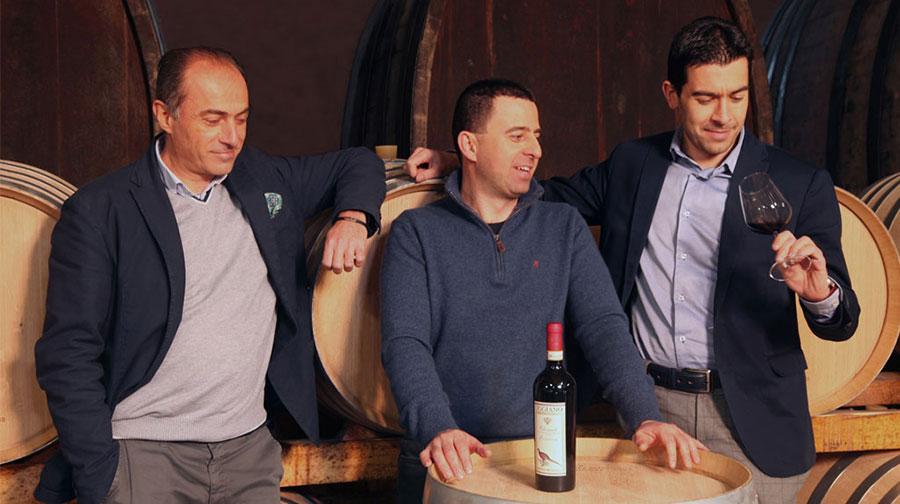 Daniele Prosperi is the winemaker and follows all the production steps, from the work in the vineyard until the bottling. He was born in 1977 and achieved the Graduation in Viticulture and Oenology. After few years spent in an important manifacturer of Chianti Classico, he started the collaboration with Uggiano in 2003. "I'm proud to have participated at the generational turnover that engaged Uggiano Company and to have been inspired by Giuseppe Losapio. My partners and I have been working here for long time. We feel the Company deeply ours and we want to preserve the founding values providing freshness and innovation."
Giacomo Fossati is the Commercial Manager. After his studies in languages, the curiosity for wine became a personal interest and turned into a job in 2001. Since then, his passion and experience has grown more and more. "I always try to understand the customers' needs and adapt their requests to the timing of production. From my point of view, it is important to guide the customer in the comprehension of his personal needs, that must be precise and careful."
Fabio Martelli is the Administrative Manager. Born in 1966, after the Graduation in Accounting and few years of experience in a commercial office, he reached Uggiano Company in 1992."Uggiano Company works well thanks to the excellence of its products and to its team"
Today, Uggiano Company boasts a dynamic, young and motivated team. The workers are united by the attachment to the Company with a solid professionalism and represent one of the Company strongest points. The common objective is the innovation in the respect of the tradition and Uggiano has many aces up its sleeve: territory, experience, passion and inborn quality vocation.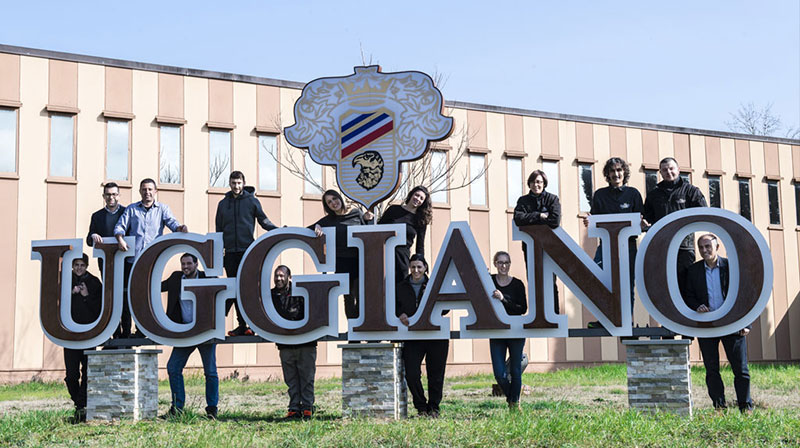 Terroir
Uggiano's Tuscan wines born in a Terroir unique in the world for its geological and pedoclimate characteristics. Based at 250-300 meters of height, the vineyards extend along the slopes that connect Montespertoli to Montelupo Fiorentino and San Casciano in Val di Pesa. The typically clayey soil, for the most part composed of Galestro and Alberese, added to the characteristic microclimate with mild winters and dry and sunny summers, help develop first quality grapes. It is in this strategic context, surrounded by a stunning landscape, that Uggiano produces its wines. The labels are produced under the supervision of a mastered staff, guided by the passion for viticulture passed from one generation to the next.

The Excellence by Vocation
Since 1976, the Company has been producing a wide range of typical Tuscan wines with an excellent quality-price ratio. The new generation continues in this direction: all wines are wisely supervised by a staff of oenologists, constantly engaged in search of quality and excellence. Quotes in leading magazines, as well as several international awards and recognitions, are the natural consequence of the company policy, always geared to quality.

Refinement for Tradition
A large and impressive ageing cellar hosts Slavonian oak barrels of 3000-6000 litres and oak French barriques of 225 litres. It is in this context that Chardonnay, Sangiovese, Cabernet Sauvignon, Merlot and Syrah are preserved for long periods before bottling to enhance their aromatic characteristics. A modern bottling line closes the production cycle, while a large and modern temperature-controlled warehouse hosts and preserves the wines before their distribution.
Vines and production
Tuscan wines are famous all over the world. Obviously, the main grape of the region is Sangiovese, raised with a spurred cordon with which all Chianti wines and Toscana IGT are produced. In detail, Chianti Colli Fiorentini is mainly produced with Sangiovese grapes and a small percentage of Cabernet Sauvignon. It is a jovial, pure and very balanced wine, with a bright ruby ​​red color and a fruity aroma, suitable for daily foods and special occasions. Chianti Classico, only produced with native vines of Sangiovese and Canaiolo Nero in San Casciano Val di Pesa area, expresses pleasant hints of violet and cherry, in addition to evident nuances of wild berries. The palate is harmonious, dry, with a pleasant tannicity. One of the company' strongest points is certainly Chianti Riserva DOCG 'Fagiano', produced with a double aging in wood. Firstly, in French barriques of 225 litres and then, in oak barrels of 30-60 hectolitres. The result is an elegant wine with a complex bouquet of sour cherry, wild berries and sweet violet with strong hints of vanilla. An excellent wine in consistency and smoothness for special occasions.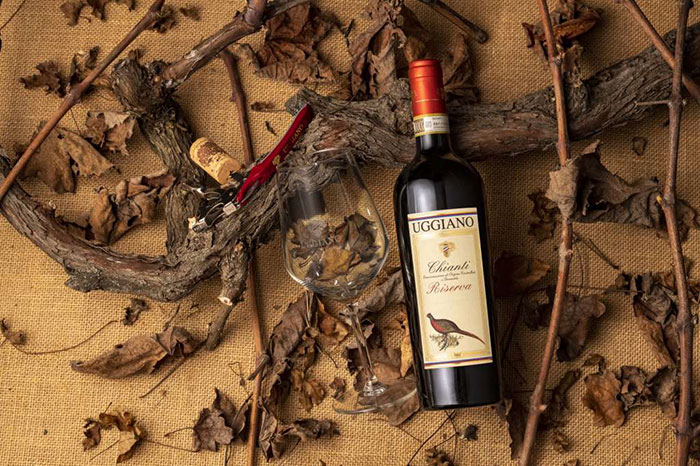 The company also produces an excellent Vermentino di Toscana with Maremma grapes. The strongest points of this wine are aromaticity and minerality, that make it pleasant to everybody's taste. A monovarietal line based on Chardonnay (Chardò) and Syrah (Syrà), that encloses a perfect balance between the typical vine hints and the wood aging notes, has recently been launched. The range is completed by two Supertuscan wines long aged in 225 litres French barriques of Cabernet Sauvignon (Falconeri) and Merlot (Petraia). These wines, produced in limited volumes, are the maximum expression of Uggiano oenological tradition and represent its success.
The recent landing in Maremma
In order to increase the production of premium Tuscan wines, the company has recently purchased a 40 hectares estate in Maremma closed to Scansano, in the province of Grosseto. With an average age of ten years, the vineyards produce five different varieties of red grape: Sangiovese, Ciliegiolo, Alicante, Merlot and Petit Verdot, in addition to two varieties of white grape: Vermentino and Chardonnay. The first bottles coming from the new Maremma estate will be introduced during the 2020: a 100% Ciliegiolo and a Maremma DOC wine. This acquisition is part of a multiannual development plan that will also focus on the area of Chianti Colli Fiorentini, where the company is rooted.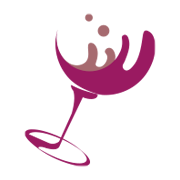 Interviste esclusive dal mondo del vino ed approfondimenti da chi fa del vino una ragione di vita, di business e di cultura.